Inflation!
Revelation 6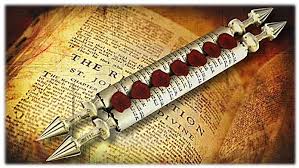 The Seven Seals
6:1 Then I saw the Lamb open one of the seven seals, and I heard one of the four living creatures call out, as with a voice of thunder, 'Come!' 2 I looked, and there was a white horse! Its rider had a bow; a crown was given to him, and he came out conquering and to conquer.
3 When he opened the second seal, I heard the second living creature call out, 'Come!' 4 And out came another horse, bright red; its rider was permitted to take peace from the earth, so that people would slaughter one another; and he was given a great sword.
5 When he opened the third seal, I heard the third living creature call out, 'Come!' I looked, and there was a black horse! Its rider held a pair of scales in his hand, 6and I heard what seemed to be a voice in the midst of the four living creatures saying, 'A quart of wheat for a day's pay, and three quarts of barley for a day's pay, but do not damage the olive oil and the wine!'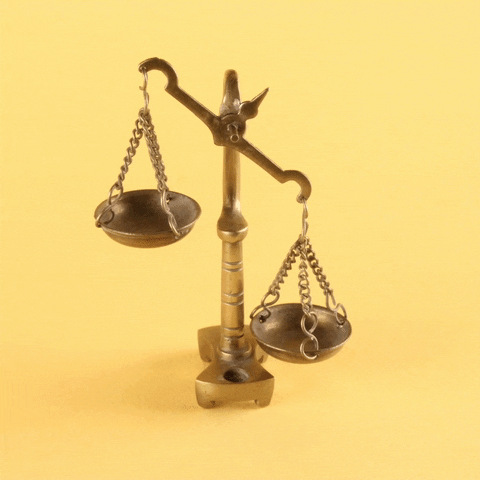 7 When he opened the fourth seal, I heard the voice of the fourth living creature call out, 'Come!' 8 I looked and there was a pale green horse! Its rider's name was Death, and Hades followed with him; they were given authority over a fourth of the earth, to kill with sword, famine, and pestilence, and by the wild animals of the earth.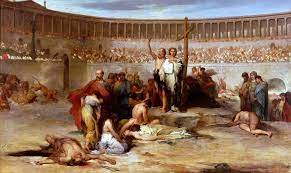 9 When he opened the fifth seal, I saw under the altar the souls of those who had been slaughtered for the word of God and for the testimony they had given; 10 they cried out with a loud voice, 'Sovereign Lord, holy and true, how long will it be before you judge and avenge our blood on the inhabitants of the earth?' 11 They were each given a white robe and told to rest a little longer, until the number would be complete both of their fellow-servants and of their brothers and sisters, who were soon to be killed as they themselves had been killed.
12 When he opened the sixth seal, I looked, and there came a great earthquake; the sun became black as sackcloth, the full moon became like blood, 13and the stars of the sky fell to the earth as the fig tree drops its winter fruit when shaken by a gale. 14 The sky vanished like a scroll rolling itself up, and every mountain and island was removed from its place.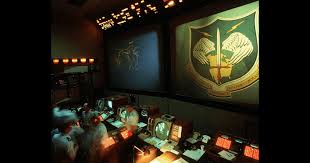 15 Then the kings of the earth and the magnates and the generals and the rich and the powerful, and everyone, slave and free, hid in the caves and among the rocks of the mountains, 16 calling to the mountains and rocks, 'Fall on us and hide us from the face of the one seated on the throne and from the wrath of the Lamb; 17 for the great day of their wrath has come, and who is able to stand?'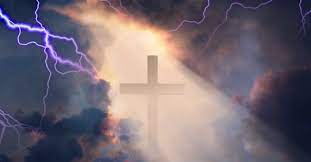 by Ray Stedman
1990
The sixth chapter of Revelation brings us to the beginning of the judgments of the wrath of God. It is not an easy passage to preach on, but it is part of the content of blessing promised to those who read and keep the prophecies of this book (1:3). I grew up on the Great Plains of Montana, and during the summer months we often experienced sudden thunderstorms. Often before the storm there would be strange calm, a sense of foreboding in the air. One could almost feel the violent storm that was about to break. This is what we experience frequently in today's world. There is a keen sense of an approaching crisis in the affairs of earth. Many secular writers of our day reflect this. To change the metaphor, it is as if we are floating down the stream of time and we sense that a great cataract is thundering ahead and we are about to plunge over the abyss.
The Bible has long predicted a crisis of that nature. One of the proofs that the Bible is from God is the fact that in the Old Testament the book of Daniel corresponds closely to the book of Revelation. Daniel saw many of the same things that John records here, although Daniel lived 500 years before John wrote. In the ninth chapter of his prophecy Daniel is given a great calendar that would outline history to its final days. There was marked out a period of 70 "weeks," which means weeks of years. Seventy "weeks" times seven years is 490, so there would be 490 years that were to be fulfilled from the beginning of the building of the wall of Jerusalem in the days of Nehemiah, to the end of the age. 483 of those years would end on the day when the Messiah would be presented to Israel as her King. Sir Robert Anderson, head of Scotland Yard in Britain during the first part of this century, has carefully worked this out for us. On the precise day when 483 years had run their course, Jesus rode down the Mount of Olives on a donkey and was presented to the nation as their King.
Just a few days later he was rejected and crucified, for the prophecy of Daniel had said that Messiah would be "cut off and have nothing," which is surely a reference to the crucifixion. After that there is an indeterminate, long-running period of time during which the prophet was told "wars and desolations were determined," (Daniel 9:26 KJV). It is during that indeterminate length of time that the church comes into being, starting on the Day of Pentecost when God began to call out a special people for his name, made up of both Jews and Gentiles. That church began almost 2,000 years ago, and perhaps is almost completed now, but it is still on earth today. The prophet is then told of certain other events that were to occur during the last seven years of that 490-year period. Those events have not yet happened! Many commentators have thus understood that this seven-year period is still unfulfilled and when it begins it will be largely and closely associated with the nation Israel.
Those seven years are referred to by Jesus himself in his great prophetic passage in Matthew 24. Before his crucifixion, as he sat on the Mount of Olives, he explained to the disciples what must come to pass. In that passage he refers several times to "the end of the age," or more simply, "the end." That end is the seven-year period of Daniel's prophecy that will run its course when Israel is once again brought into prominence among the nations. It is that same period of seven years, which Revelation 6 through 19 covers, we are looking at the events to occur in that period. The four Gospels tell the story of the life of Christ, but one-third of the gospels focus upon the last week of our Lord, the seven days before the crucifixion. So also in Revelation, 13 out of the 22 chapters of this book relate to the seven-year period of time which constitutes the end of the history of this age.
If you have read ahead a little in Revelation you will have noticed three series of events that occupy this last week of years. The first series is the seven seals, six of which we will look at today. Included in the seals are seven trumpets that must yet sound, and seven bowls of wrath which are to be poured out upon the earth. Each of these series divides into four things and then three things: Four events that are outward, visible and easy to recognize, and then three revelations of what is going on behind the scenes, as it were, by the activity of angelic agencies, both for good and evil. Now let us look at the opening of the seven-sealed scroll which is held in the hands of the Lamb who was slain. John describes it in Verses 1-2:
I watched as the Lamb opened the first of the seven seals. Then I heard one of the four living creatures say in a voice like thunder, "Come!" I looked, and there before me was a white horse! Its rider held a bow, and he was given a crown, and he rode out as a conqueror bent on conquest. (Revelation 6:1-2 RSV)
There is much dispute as to what this rider on the white horse represents. Some identify him as Jesus, because in Chapter 19 Jesus appears on a white horse, wearing a crown (a different kind of crown, however) and bringing to an end all the terrible series of judgments that have come upon the earth. But it is a mistake to identify these two because the context is entirely different. Here we are looking at the beginning of the judgments of God, and in Chapter 19 we see the end of them. The rider of Chapter 6 is summoned by one of the living creatures, but it would be unthinkable for a creature to summon the conquering Christ of Chapter 19. But it is significant that this rider on the white horse here bears some resemblance to the appearance of Jesus on a great white horse in Chapter 19. They both ride a white horse; they both wear crowns; and both are bent on conquest. It suggests that this rider is someone who is like Christ, but is not Christ.
Many of you are already anticipating what I am going to say: This is doubtless the long predicted antichrist, whom Scripture speaks of in various places, who is yet to appear in the last days. The "Man of Sin" (2 Thessalonians 2:3 KJV) the Apostle Paul calls him, also "the Lawless One" (2 Thessalonians 2:8 NIV) who is yet to appear and offer himself as though he were God's Christ. Jesus himself said to the Jews of his day, "I have come in my Father's name and you do not accept me, but if someone else comes in his own name, you will accept him," (John 5:43 (NIV)). This rider comes like Christ, but in his own name. He is given a bow, but no mention is made of arrows. This appears to be a bloodless conquest he launches. When you ask, "What is this describing?" I think it is clear that it suggests some kind of overpowering of the minds and wills of men, without physical destruction. How is that done? The answer is -- by some form of deceit, by lying that misleads and deceives men and thus overcomes them without the shedding of blood. It is noteworthy that in Matthew 24, the first word Jesus speaks to his disciples is, "Watch out that no one deceives you," (Matthew 24:4 NIV). You will find references to the possibility of deception throughout that chapter.
We are bemused by delusions today. We are hardly aware of how much we are being deceived all the time. Turn on the television and fraudulent ideas, along with a mixture of truth, are immediately poured into your brain. Pick up a magazine or read a newspaper and you will find they make false claims that certain acquisitions will produce great blessing and liberty for you. But trying them will soon tell you that it is a lie. They do not work. We are constantly offered much of promise but which are totally unable to deliver. Drugs deceive! Millions of people, young and old, are being deceived by the flush of euphoria that a drug produces for a time. Cigarettes deceive! Thousands have died because they have felt that smoking a cigarette makes them feel sophisticated and mature. Many young people, especially, have been led into that trap. Perfume ads deceive! They offer outlandish, extravagant promises of rapture and romance that will follow if you merely douse yourself with something from a bottle. The New Age deceives! This week I thumbed through a magazine produced by New Age and found it filled from cover to cover with lies. It claims that men and women have secret powers, hidden abilities within, which if you discover them will enable you to rule people, to manipulate them and run the world to suit yourself. These ideas are constantly being fed into the human mind. We have even learned this week that Oat Bran does not work like its cracked up to be! We have all been fed a line on that! It is no better at lowering cholesterol than anything else. We are obviously living in a very deceitful age. What this rider on the white horse tells us, however, is that the worst is yet to come. We are living amidst great deceit, it is true, but it is not as bad as it is going to be. There is coming an even greater lie. Listen to the words of the Apostle Paul in his second Thessalonian letter:
The coming of the lawless one will be in accordance with the work of Satan displayed in all kinds of counterfeit miracles, signs and wonders, and in every sort of evil that deceives those who are perishing. They perish because they refused to love the truth and so be saved. For this reason God sends them a powerful delusion so that they will believe the lie and so that all will be condemned who have not believed the truth but have delighted in wickedness. (2 Thessalonians 2:9-12 NIV)
That makes it crystal clear, does it not? This first conquest by evil in the last days is set in motion when God takes off the reins and lets deceit have its way among men until it reaches a climax of delusion. We will learn many more details of that as the book proceeds. Now the second seal is opened:
When the Lamb opened the second seal, I heard the second living creature say, "Come!" Then another horse came out, a fiery red one. Its rider was given power to take peace from the earth and to make men slay each other. To him was given a large sword. (Revelation 6:3-4 NIV)
This rider is easy to recognize. It is war, of course, but not war between great armies -- at least not at first. The word for slay is really the word "slaughter." It is a reference to civil war or civil anarchy where mobs of people group together to attack and destroy other peoples whom they do not like. We are seeing a demonstration of this today in what is going on in Azerbaijan at this very time. Even the Soviet army is unable to bring peace or to prevent this slaughter. We have had further examples of it in El Salvador, in Nicaragua, and in the gang wars raging in the streets of Los Angeles, Miami, New York City, and other places. It is a murderous slaying of others by people unrestrained by any control.
But that will lead to what is mentioned in the last sentence, "to him was given a large sword." In the days when John wrote they obviously did not have megabombs, missiles, tanks, or any of the modern weapons of warfare. Such weapons of destruction had to be put in terms that people would understand in that day, so the major weapon of destruction then was a sword. But this is a "great" sword, a powerful weapon of destruction. It is with good reason that many commentators have seen this as a picture of the awesome power of a nuclear bomb, something that destroys enormous numbers of people. If you read the 38th and 39th chapters of Ezekiel you will find a vivid description of such warfare, where armies come down out of the north into the Holy Land and are decimated by what appears to be radiation sickness. It is powerfully portrayed for us in those accounts. Then we have the third seal opened, in Verses 5 and 6:
When the Lamb opened the third seal, I heard the third living creature say, "Come!" I looked, and there before me was a black horse! Its rider was holding a pair of scales in his hand. Then I heard what sounded like a voice among the four living creatures, saying, "A quart of wheat for a day's wages, and three quarts of barley for a day's wages, and do not damage the oil and the wine!" (Revelation 6:5-6 NIV)
Most scholars take this to be a reference to widespread famine on the earth. They say that the scales symbolize food being weighed out carefully. It is in such short supply that it must be rationed. Even then no one can get very much because it takes a day's wages to earn a single quart of wheat or, because it is cheaper, three quarts of barley. This would only be enough food for one person for a day. You would work all day long and all you would be able to earn at best would be enough for your own physical needs. There would be nothing for your family or for anyone else. But the luxuries, the oil and the wine, are left untouched.
But perhaps this is not referring to famine because in the next seal, as we will see, famine is specifically mentioned as part of that judgment. What else causes terrible shortages and creates high prices so that people cannot buy adequate amounts of food? It is inflation; economics out of control; panic in the marketplace! During the days of the Weimar Republic in Germany after World War I, I remember as a boy hearing accounts of people taking ten thousand German marks bills, loading them into wheelbarrows, and taking them to market to buy a single loaf of bread. That is what runaway inflation does. It makes money worthless. That in turn becomes an excuse for the rigid controls over buying and selling which we find in Chapter 13 when, under the reign of antichrist, the whole world is subjected to enormously restrictive controls so that "no one can buy or sell without the mark of the beast," (Revelation 13:17). That brings us to the fourth seal, in Verse 7:
When the Lamb opened the fourth seal, I heard the voice of the fourth living creature say, "Come!" I looked, and there before me was a pale horse! [The word actually is chloros, from which we get the word chlorine, a pale green horse, like chlorine in color.] Its rider was named Death, and Hades was following close behind him. They were given power over a fourth of the earth to kill by sword, famine and plague, and by the wild beasts of the earth. (Revelation 6:7-8 NIV)
This rider is named "Death"; and floating along behind, was a figure that is identified as "Hades," or Hell. Death takes the body and Hades takes the soul. As someone has put it, "Death rides the horse, but Hades follows with the hearse." There are four forms of death that are related to this attack. First, the sword, which here is not war but murder; individual assault upon one another. It is people taking the law into their own hands and murdering other people without regard to justice or law. With murder comes famine and widespread starvation. We are all familiar with the terrible pictures of famine areas, largely in Africa, and the swollen, distended bellies of little children with spindly legs as the flesh of their bodies disappears and they die a terrible death from starvation. Jesus spoke of such famines in Matthew 24. There would be on earth, he said, earthquakes, famines and plagues. These plagues are endemic diseases. When civilization begins to crumble, the defenses of mankind against diseases are lost as well. Whole populations are decimated by such plagues. There may be a reference here to biological warfare, the willful spreading of diseases among people so that they are wiped out en masse. It covers also the appearance of previously unknown diseases. We have a foreshadowing of these in the terrible plague of AIDS in our own day.
Fourth, the wild beasts of the earth multiply, and humans are subject to attack by these predators. The account says that a "fourth of the earth" is given over to the four attacks. It is difficult to know whether that is a geographic or demographic division of earth. If it is geographic, then a fourth of the globe is decimated by these terrible plagues. If it is demographic, it means a fourth of the population is taken. There are approximately four billion people on earth today and that would mean that one billion people, equivalent to the entire population of China, would be decimated by diseases. It is a picture of a desolated earth caused by man's hatred and barbarity.
These four seal-judgments are all references to forces that are already at work among us, but they will be carried to an unprecedented extreme in that day. Thus these four seals confirm God's announced method of making men face up to truth. How does he make us stop hiding our heads and refusing to face reality? By allowing evil to have its full head! Romans 1 declares that he "delivers men over" (Romans 1:24, 1:26, 1:28) to their own passions, their own evil, and allows it unrestricted manifestation. God teaches us to face up to unpleasant truth by giving us what we demand. If men want to believe a lie, then God will send the lie, the lie of the antichrist, the powerful delusion that Paul describes. If men seek to kill and destroy and refuse to see the evil of that, then God gives them widespread anarchy, mob rule, and, ultimately, nuclear destruction. If men want more and more luxury and higher standards of living, they are given what goes along with it -- high inflation, which finally makes money worthless. If men demand power and control, what they are given is intrigue, murder, disease, and desolation in the earth. These cannot be stopped, because they are inescapable consequences of the evil of mankind. We have three more seals to look at in the series, although only two of them appear in this chapter. In these two, no longer are natural forces allowed to have their head, but here is something quite different. We are shown supernatural activities; God working in the midst of the judgments of the four horsemen, both for good and evil. So we read of the opening of the fifth seal,
When he opened the fifth seal, I saw under the altar the souls of those who had been slain because of the word of God and the testimony they had maintained. They called out in a loud voice, "How long, Sovereign Lord, holy and true, until you judge the inhabitants of the earth and avenge our blood?" Then each of them was given a white robe, and they were told to wait a little longer, until the number of their fellow servants and brothers who were to be killed as they had been was completed. (Revelation 6:9-11 NIV)
This is a difficult paragraph to understand because it is dealing with a phenomenon hard for us to grasp, i.e., how people can die over the course of a period of time and yet all arrive in heaven together. It marks the difference between time and eternity. The altar mentioned here has not appeared in this book before this. But it indicates, as will be confirmed by later references in this book, that we are viewing the great temple in heaven, the temple which Moses saw when he was on Mt. Sinai. He was shown a pattern which he was to copy in the tabernacle of old. He was ordered to copy it exactly as it was shown him. Thus the tabernacle contained a great brazen altar, and a laver in the outer court, a Holy Place with certain furniture, and a Holy of Holies, all reflecting the heavenly temple that Moses had seen.
We learn from other Scriptures that these symbolize the ultimate dwelling place of God which is man himself! Man is the dwelling place of God. When we come to the end of Revelation we will see that fulfilled. It is man who becomes the temple of God. These symbols are given to us as a tremendously significant explanation of the psychological makeup of our humanity -- body, soul and spirit -- just as the tabernacle consisted of an Outer Court, the Holy Place, and the Holy of Holies. (I do not have time to dwell on that.)
This group of martyrs is clearly identified with the great multitude in Chapter 7, which we will look at next week. John sees a great crowd which no man could number, from every tribe, nation, and language of earth, standing before the throne, all having been killed for their testimony. This group belongs to that multitude as well, for they are given a white robe and told to wait until their brethren would also be killed. This indicates that these martyrs and those killed later who make up the great multitude, all enter heaven at the same time. It is God's way of expressing the transference from time into the conditions of eternity, where past and future are eclipsed and only the present exists.
If you have had loved ones who have died in the past -- perhaps your father, mother, grandfather, or some godly friend that you know belongs to the Lord -- you tend to think of them now as waiting in heaven for you. You may think of them as sitting around playing harps, dressed in heavenly bathrobes, waiting for their bodies to be resurrected, and for you to join them in heaven. But all that is an accommodation of eternity to time conditions. We are locked into the idea that heaven is an eternal continuation of the conditions of earth; that future and past are as much to be experienced in heaven as they are on earth. But that is not so. Eternity is always now! In eternity events occur when people are ready for them, not in a certain prescribed sequence. I do not have time to enlarge on that but if you want more on this I would refer you to my book Authentic Christianity, where I have a chapter on "http://www.raystedman.org/authenxnty/authen09.html>Time and Eternity" that will explain this at greater length.
But notice the prayer these martyrs pray. It is a call for vengeance. That is quite different from the prayer Christians are expected to pray for their enemies, is it not? Jesus told us that we are to pray for those that despitefully use us and persecute us, and our prayer is to reflect the prayer that he prayed on the cross, "Father, forgive them for they know not what they do," (Luke 23:34 KJV). When Stephen, the first martyr, saw the Lord as he was being stoned, he said to him, "Lord, lay not this sin to their charge," Acts 7:60). He is asking that his murderers be forgiven for they do not know what they are doing. That is to be the prayer of believers today for those who persecute them or take unfair advantage of them.
Last week I heard on the radio a very interesting interview with Rachel Saint, the sister of Nate Saint, one of the five men martyred in Ecuador in 1956 as they attempted to communicate with the Auca Indians. Later Rachel Saint and her companions went back to that tribe and lived among these killers. They served them, and loved them, and taught the gospel to them until they won to Christ the very man who had killed Rachel's brother. The interviewer asked her, "Why did you go back into this tribe?" She said, "Because in the Indian culture they lived for vengeance, but as a Christian, I knew that forgiveness is our message for those who injure us." Most of that tribe became Christians through the faithful ministry of these women. Someone told me today, however, that young people are leaving the tribe, and are caught up with the lies of the world around, and many of them are thus losing their Christian heritage.
But these martyrs under the fifth seal are not living in days when God patiently endures the injustices of men. These are days of judgment; days when wrong doers are being called to account, the time of vengeance. The prayers, then, of God's people reflect the mind of God at that time. Led of the Spirit, they pray for what God intends to do during the last days. Now we come to the sixth seal.
I watched as he opened the sixth seal. There was a great earthquake. The sun turned black like sackcloth made of goat hair, the whole moon turned blood red, and the stars in the sky fell to earth, as late figs drop from a fig tree when shaken by a strong wind. The sky receded like a scroll, rolling up, and every mountain and island was removed from its place. (Revelation 6:12-14 NIV)
It is a vivid description of chaos in nature! The whole natural world goes on a rampage. Again, in Matthew 24 Jesus describes this same event, in Verses 29-30:
"Immediately after the distress of those days [He is talking about the great tribulation],
  'the sun will be darkened,
    and the moon will not give its light;
  the stars will fall from the sky,
    and the heavenly bodies will be shaken.'

"At that time the sign of the Son of Man will appear in the sky, and all the nations of the earth will mourn. They will see the Son of Man coming on the clouds of the sky, with power and great glory." (Matthew 24:29-30 NIV)
These six seals have carried us almost to the very end of the whole seven-year period. We have been swiftly moving through this dramatic period. After the great tribulation, nature will be upset by some cosmic phenomenon. Perhaps it is the approach of an undetected heavenly body that will upset the gravity of the earth. Volcanoes will begin to spout lava; great earthquakes, much larger than the one we just experienced, will rumble through the earth; the stars will appear to be falling from the sky; the darkening of the sun and the moon will result from the ashes and dust caused by these phenomena. Listen also to Luke, in Chapter 21 of his Gospel, as he describes this same event:
"There will be signs in the sun, moon and stars. On the earth, nations will be in anguish and perplexity at the roaring and tossing of the sea. Men will faint from terror, apprehensive of what is coming on the world, for the heavenly bodies will be shaken. At that time they will see the Son of Man coming in a cloud with power and great glory." (Luke 21:25-27 NIV)
It will be a time of terror and anguish throughout the earth. What will be the effect of this on the people? John now sees the final scene under the sixth seal.
Then the kings of the earth, the princes, the generals, the rich, the mighty, and every slave and every free man hid in caves and among the rocks of the mountains. They called to the mountains and the rocks, "Fall on us and hide us from the face of him who sits on the throne and from the wrath of the Lamb! For the great day of their wrath has come, and who can stand?" (Revelation 6:15-17 NIV)
Who can stand? That is the question left hanging in the air. Of course, no one can stand. It is the end of civilization as we know it. All people who have not yet believed in Christ, who have refused his offer of grace, are the subjects of this terrible catastrophe and cry out in desperate fear. It is clearly the scene described in Isaiah 2, when "men shall go into the clefts of the rocks and cry for them to fall upon them," (Isaiah 2:21 KJV). Also, in Isaiah 26:10, the prophet says,
Though grace is shown to the wicked, they do not learn righteousness; even in a land of uprightness they go on doing evil and regard not the majesty of the Lord. (Isaiah 26:10 NIV)
In that day, those who refuse to believe have reached a stage where they cannot believe. They do not repent and pray to the Lord for salvation. Rather, they feel a terrible fear and pray to the rocks to destroy them. They will manifest openly and publicly what they feel privately and secretly today. It is a strange phenomenon, but it is easily confirmed, that every unbeliever is convinced in his own heart that death is somehow an escape into oblivion! Somehow they think they can escape the terrible consequences of their evil by dying. That is why people commit suicide. They believe they are escaping their problems, that there will be no consequences beyond death. But the Word of God assures us this is not true: "It is appointed unto man once to die and after this the judgment," (Hebrews 9:27 KJV). Why are we told these terrible truths? If we belong to the Lord now and are members of his body, the true church, we will not be a part of this scene. This is the great promise we have heard several times in Revelation up to this point. This whole terrible scene is specifically sent to the seven churches of Asia to read and understand. Why? It is not only to make us earnest in our witness; it is also intended to show us where the forces and movements which surround us at the moment are going to end up. We are told this so we can recognize evil while it still looks good, and thus be able to judge what to give ourselves to and what to reject. One verse in John's Gospel, Chapter 3, Verse 36, tells us the whole story:
"Whoever believes in the Son has eternal life, but whoever rejects the Son will not see life, for God's wrath remains on him." (John 3:36 NIV)
Isaiah puts his finger on the reason for these judgments. It is, he says, that "the pride of men shall be humbled," (Isaiah 2:17 NIV). The pride of man -- this terrible lust within us to be in charge, to be in control of our lives and of other people's lives, to run everything, to be the center of our own little universe and to judge everything as to whether it pleases us or displeases us; that is the pride of man. Grace can humble it. The sight of God's Son dying in our place ought to make us see the evil of our hearts. But, if grace does not humble us, ultimately judgment must. Here we must leave this.
I do not like preaching on these passages. I much prefer the wonderful views of the throne of God in heaven, with the angels singing around the throne the song of the redeemed. But if we are faithful to the Scriptures we must recognize that there is coming a day when the wrath of God must be poured out upon the unrighteousness of men and it is to that day we have come. Let us be sure that there is in none of us an evil heart of unbelief.

Research Firm that predicted the Savings & Loan Crisis, the Dot-Com bust, and the 2008 Great Financial Crisis releases bombshell new exposé
I'm Martin Weiss, founder of Weiss Ratings. I have been tracking the rise and fall of economies, markets and investments for over fifty years. I have seen the best of times and the worst of times. But I have never seen anything like this before. Right now, Washington and Wall Street are running scared. They see a giant avalanche heading their way. It started out as a little more than a dusting of snow on a partly cloudy winter day. They told us it was nothing. Just a temporary flurry. But then it showed its true colors – a new kind of INFLATION that accelerates with alarming speed, that threatens to bury almost anyone or anything in its path.
Slowly at first, and with greater haste today, the biggest investors in the world have begun to quietly move their capital to safer havens. What they don't tell you is that it's also the biggest threat to average Americans. Driving the cost of food and gas to the highest levels of all time, making almost every home in America unaffordable, gutting the value of our dollar. It's already happening all across America! But what you've seen so far could be just the beginning.
And still, most investors don't see the handwriting on the wall. They don't seem to realize that, in times like these, the consequence of complacency is catastrophe. They have not yet started to move their money to safer shores. Because most Americans have never experienced anything like this in their lifetime. They don't remember the 1970s, when folks waited in their cars for hours in gas lines just to top off their tanks … when millions had to pay 18% or more for a home mortgage … and when mass protests erupted across the land. They didn't live through the inflation that gutted the economy of Argentina and Brazil in the 1980s, destroying the savings of millions of middle-class citizens … bankrupting their governments … prompting their leaders to confiscate their bank accounts … unleashing mass protests … and tearing apart the fabric of society.
Nor does anyone dare think about the hyperinflation that wreaked havoc on the entire world …Starting in Germany after World War I …Creating the greatest avalanche of worthless paper money ever seen … Giving rise to the most murderous dictator in the history of Western civilization …And plunging the entire planet into a great war that made all prior wars seem small by comparison.
Hundreds of millions of Americans going about their daily business in America today are oblivious to the torrid past of inflation. Fewer still believe anything vaguely similar might be possible today. They have not yet learned the lessons of history. They've been told by Washington to look the other way, that it's just "transitory" — merely a temporary blip. But now the time has come. The time has come for someone who knows the truth, speaks the truth and acts on the truth about inflation. Someone who has always fought for average investors, who has a long and deep history of helping them to escape inflation, to shield them from inflation and, to mount the best defense of all – an offensive strategy to ride the wave of inflation and get rich in the process. Now is the time for an inflation fighter who's had the courage to shout his warnings from the rooftops. And fight inflation on behalf of average investors. That man is Sean Brodrick, senior analyst at Weiss Ratings and one of the most experienced inflation fighters of our time.
You may have seen Sean delivering his inflation warnings to millions of viewers on media outlets like CNBC, ABC and Fox News. Or perhaps you know him as the Indiana Jones of inflation fighters, exploring the resources and mining the opportunities all across the globe that investors can use to make the most money in times of inflation. Gold and silver mines … energy and natural resources, here in the U.S. and in the far corners of the world — from the remote regions of South America to the far reaches of the Arctic. All with decades of boots-on-the-ground experience that has helped investors score countless windfalls … even as others saw their buying power and their wealth decimated by inflation. Sean's also known for his brutal honesty. And today, he's issuing his starkest warning of all.
SEAN: Hi! I'm Sean Brodrick, and I'm here to tell you that despite the lies we're being fed … despite the still loud voices telling you that everything is fine … and despite the so-called good health of the economy … there is a huge threat to something far bigger than the near-term ups and downs of the economy. Something that impacts everything we buy, everything we invest in and everything we already own: The value of the U.S. dollar. I call this threat the Great Money Nightmare. I believe that anyone who fails to understand the Great Money Nightmare — and anyone who chooses to ignore its consequences — is likely to repeat some of the gravest financial errors of the century to come … and the century past. While those who face it head-on have the opportunity to do precisely the opposite — to turn what might otherwise be a nightmare into a new kind of prosperity, not only for themselves personally, but also for the benefit of all concerned. To all those in the first category of investors, my advice is very simple: Don't bury your head in the sand. Don't follow the mainstream media or even social media. Learn for yourself, independently, what the true facts are. Then, take your destiny into your hands and chart your own, safer, more prosperous financial future. That's what I'm here to help you get started with today. Then, the rest will be up to you. You already probably know quite a bit about this phenomenon. You know that many people in high places are prone to lying and deception, especially when things are bad.
You should also know that the Fed has printed trillions of dollars and pumped the money into the banking system. You should also know how this has created one of the greatest income drains in history for anyone with money in a bank, a money fund, an insurance policy or the stock market. It doesn't matter if it's locked in an IRA, a pension plan, a 401(k) or even investments that are supposedly ultrasafe like Treasury bills and bonds. Inflation doesn't care. It guts the very currency that your assets are denominated in, be it the U.S. dollar, euros, pound or yen. That directly impacts the value of your assets no matter where you are and virtually no matter what you invested in.
First they took away the interest and yields — with a swipe of a pen. Then they wiped out any kind of decent yield that people might have hoped to make on their savings. I think that's tragic. Many people work hard all their life. They build up a nest egg; they expect the yield on their money to make a substantial contribution toward their living expenses and their retirement. Instead, what kind of yield can people get on their money? Unless they take wild, wild risks, they get practically ZERO. Nothing but a speck of dust.
Look at the rip-off deals offered from banks, for example.
Even if someone puts up $100,000 … even if they lock up their money for five long years …all they get is a meager 0.27% in the annual interest. That's the average rate on a 5-year jumbo CD. And the 5-year jumbo CDs are the BEST deal you can get at a U.S. bank. Imagine that. The best deal and only 0.27%! If they lock up $100,000 for just one year, all they get is 0.16% interest. If they invest a single dollar UNDER the $100,000 minimum, they get even less. If they leave their money in a bank money market account, they get 0.07%. That's less than three meager quarters for every $1,000 on deposit. And if a person wants the extra safety of a Treasury-only money market fund, then all that person gets is 0.01%. If they had $1,000 in savings, at the end of the year, their total interest is $0.10. One lousy, alloy dime.
All thanks to the great wisdom of the U.S. Federal Reserve, robbing from people the interest income they deserve! Drip by drip, year after year, the Fed has squeezed nearly every penny out of any decent yield citizens may have hoped to make. But if you think that this water torture is bad, now comes the death blow.
Surging inflation — the most insidious and most powerful threat to money known to man. With surging inflation, not only have the high priests of finance stolen years and years of the interest income that all hard-working Americans deserved, they've also unleashed the most horrendous financial forces known to mankind: The destruction of the money itself. Not only do we have near-zero interest rates, but also one of the fastest surges in the inflation rate in history. Not only have they stolen the interest, they're now destroying the principal too. They blame it on COVID lockdowns and the post-COVID resurgence. They blame it on supply-chain disruptions.
But the real cause is right there in front of them. To see it plain as day, all they have to do is look in the mirror. The culprit is their own zeal to print money and make the rich richer. The culprit is their own reckless attempts to defy Mother Nature and create wealth out of thin air. They say inflation will soon come back down to normal. But even as they utter those words, they keep running the same money printing presses 24/7 and they keep feeding the same fires of inflation that they try to blame on everything except themselves. The Fed talks about tapering — in other words, reducing the rate of money printing — but all they're really doing is tinkering, making minor (and temporary) mid-course corrections in a never-ending flood of funny money. The Fed chairman promises to raise interest rates, but the rate hikes are so tiny — even after four successive hikes — they're unlikely to go up by more than a single, lousy percentage point.
Great! Now, instead of making 0% on my savings, they want me to jump for joy if I can make one meager, lousy percent?! All while my money is losing 7% of its value, even before inflation really catches fire?! Give me a break! What's worse, if all they're doing is tinkering and toying around, can we have any semblance of confidence that inflation will really come back to normal? Of course not. If anything, it's bound to get worse, a lot worse. Already, it's accelerating at nearly the fastest pace in history. In just one year, the rate of inflation in the United States has surged nearly sixfold.
That's right. One year ago, it was 1.2%. Now it's 7%. That's almost six times worse! In fact, 2021 brought the highest inflation rate in 40 years. It's threatening to kill the retirement of hundreds of millions of citizens. And it's quickly gutting their ability to build generational wealth. It's the last warning that the time is NOW to open our eyes, to wrap our wealth with a protective shield and to turn the tables on the high priests of finance. Instead of being the victim of this great nightmare, it's time to turn these powerful forces in our favor. I'm going to show you how in a moment. First, though, I don't want you to take my word for any of this. I want to give you proof — hard, undeniable proof. Start with this indicator.
Yes, the indicator is my grocery bill. Now, let me preface this by saying I'm a simple guy with simple tastes. My wife and I are both cooks, but we eat pretty simply — ground beef for meatloaf, pork chops, a dozen eggs, coffee, wine …There's nothing crazy or exotic on this list. No caviar, truffles or expensive champagne. It's honestly just the regular stuff every American needs to feed their family for a week … and that they should be able to afford. But let me tell you: I was shocked when the cashier told me the bill for this short list of groceries. I've been buying family groceries for 25 years … and this is the most outrageous bill I've had to pay. Adding insult to injury, I know it's just going to get worse the next time I shop, and a LOT worse soon thereafter. So, I decided to investigate. I wanted to figure out just how bad things actually are.

Want to know what I found? First, I checked out housing market trends over the past 18 months. Last year, we saw an 11% price surge. This year, it's looking like another 12%. It's a frenzy. A couple we know struggled to buy a condo. Thankfully, they didn't need to renovate or build new. If they did, it would've cost even more as material prices have surged. In April 2020, $5,000 bought enough lumber to build a nice-sized house. Now you'd need $25,000 to buy enough to build a small single-family unit. And that's if you can even get the supply you need — chances are, you may have to wait months. And it's not just about wood.
New York's famous dollar pizza now costs $1.50 — a whopping 50% increase! The name of the company and the sign on the store is still "$1 Pizza." But the signs on the sidewalk are "$1.50 Pizza." Seems like they also believe the Great Money Nightmare is just temporary, a passing fad. In fact, if you compare inflation now to inflation less than 18 months ago … it's over 50 times higher! Wheat prices are up 19%. Sugar's up 29%. Corn … a stunning 20% higher. Can you imagine that? Plain, ordinary corn. An ingredient that's in so many products we buy each week I've lost count — cereals, snack foods, salad dressings, taco shells, flour products, you name it. And it's up 20%! Hah! Now try and compare THAT to the 0.27% yield people are making on their 5-year jumbo CDs! It's 74 times higher.
And look at THIS! Ordinary Colombian coffee, up 60%. That's not just 74 times higher than the best interest rate you can get on bank deposits. It's 222 times higher. Heck! With inflation at that level, all the interest people make in an entire year is wiped out in less than 40 hours! What did the Fed do about this? Hah! It's a joke, and it's not funny. According to the Fed's so-called inflation targets, these kinds of prices were not supposed to go up this high for nine years. But it happened in less than ONE year, something no one at the Fed — let alone at the White House — wants to talk about. That helps explain why they neglected it for so long and why my grocery shopping list now comes with such a huge price tag.
But it doesn't stop there. Prices are soaring across the board — some as much as 180% in the past year. And they want us to look the other way?! The problem is you cannot afford to look the other way because the situation you're facing today is the worst in my lifetime and even in my father's lifetime. In fact, it's the worst in the last 100 years. This chart shows the yield you can earn on your liquid savings AFTER you take away the money you're losing to inflation.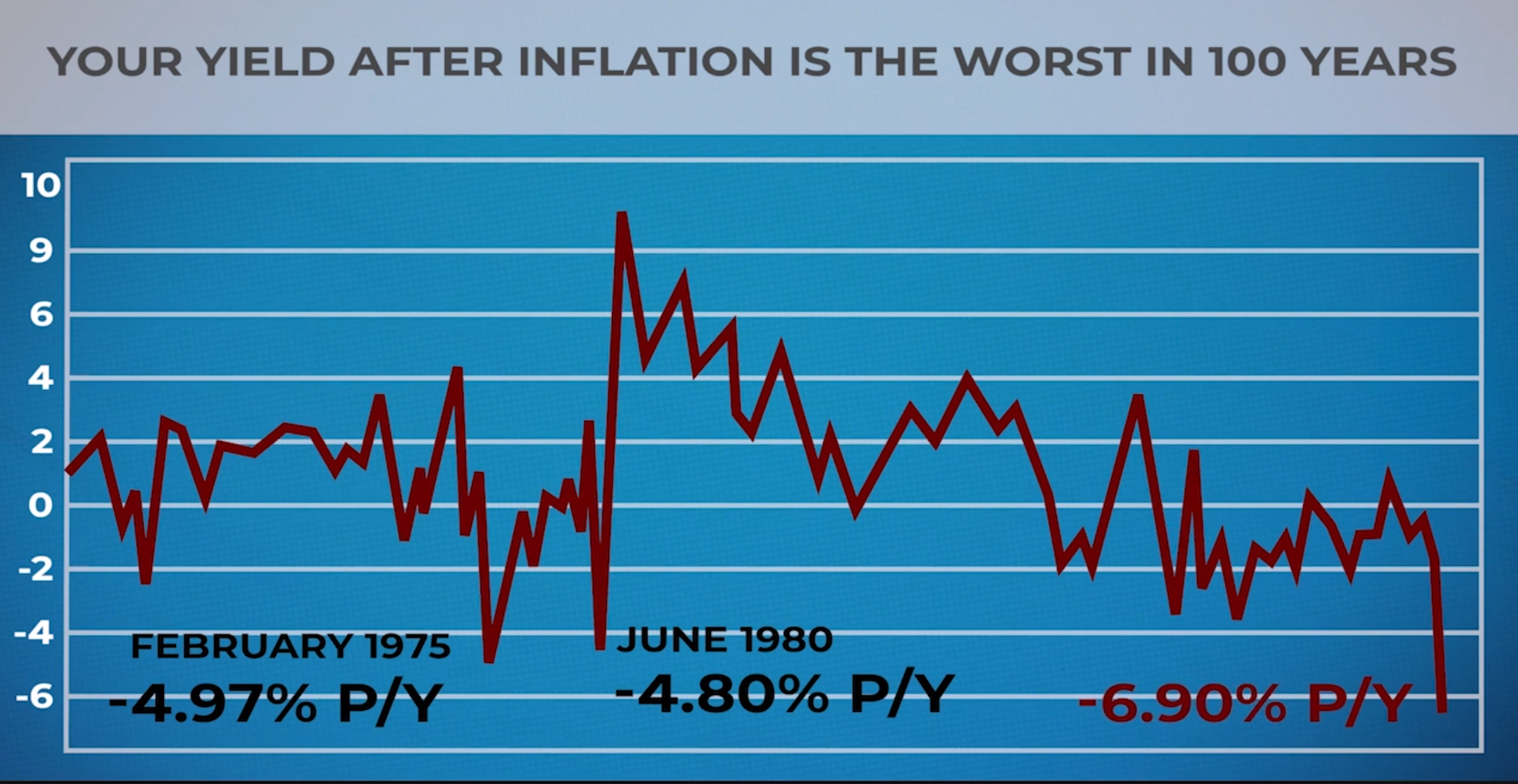 Until now, the worst it's ever been in the last century was in February 1975. That's when the country was plunged into a deep recession, New York City was going broke and the Fed cut interest rates to the bone. For a short while, if you had your cash sitting in a bank, instead of making money, you were losing it — 4.97% per year. The second worst situation was five years later. This time, the big problem wasn't crazy low interest rates. It was crazy high inflation. So, after inflation, you lost 4.8% per year. But now, thanks to the Fed, we have both plagues — BOTH crazy low interest rates AND crazy high inflation — AT THE SAME TIME.

To our knowledge, this has never happened before in the history of the United States of America. In other words, what happens to the money you have sitting in cash is worse than anything we've EVER seen before. You're LOSING nearly 7% per year. And it's probably going to get worse. The Fed isn't going to slam the brakes on its money printing. That would almost definitely sink the economy into the deepest depression of all time, and they know it. No matter how bad the inflation gets, the Fed is gung-ho to continue printing money. And even if they finally do get serious about ending the money printing just a tad, it will almost certainly be too late. In fact, all our research tells us it already IS too late. Inflation is already feeding on inflation. Wages are already beginning to skyrocket. And since time immemorial, skyrocketing wages have ALWAYS driven up the prices on virtually everything people buy.

Everybody knows that. It's a proven fact. In fact, everything I've just told you is based on official government data, which is another problem. Because the government is notorious for fudging the inflation numbers to hide the truth about how bad things really are. Independent calculations show the situation is significantly worse. "This will all go away," they say. "Give it time," they insist. Well, I don't buy it.

I think they're lying, plain and simple. Inflation is transitory? They've already backpedaled on that lie. They have the tools to control inflation? Another lie. The way they calculate inflation? Probably one of the most insidious lies of all. They know if they told the truth, it would trigger a massive financial crisis. So, they keep stringing us along, delaying the inevitable and putting people's futures at risk.

Unfortunately, millions of Americans believe them! They believe everything is going back to normal … they believe the out-of-control price hikes are temporary. And, as a result, they've put their financial future in grave danger. Their savings, their wealth, their retirement, their way of life … could all be significantly devalued by these lies. I've uncovered mountains of alarming evidence that proves this financial disaster is not just likely to happen … it's already happening! This is not a prediction because we are already seeing the effects. The evidence is incontrovertible.

JPMorgan, Deutsche Bank, Paul Tudor Jones, Warren Buffett, Stanley Druckenmiller and many other Wall Street juggernauts have seen the writing on the wall … yet the average investor is still complacent. That's sad … and ironic in a way. But here's the greatest irony of all …While the Great Money Nightmare could gut the dollar, my research tells me that's also what could create the best investment opportunity I've seen in my 30-year career. And most people will miss it. That's the irony! Instead of building wealth thanks to the tidal wave of inflation, their wealth will be swept away by the tidal wave of inflation.

If things play out as I expect they will, those who take action immediately will not only avoid the Great Money Nightmare, they will also have the opportunity to build generational wealth. Not because of what the government does for you … but because of what the government does TO all of us. Not by following the so-called experts on Wall Street, but by following your own common sense and the basic steps I will outline for you in a moment. Now, I want to be clear: I'm not speaking out against the government for the sake of it. I love our country, warts and all. But someone needs to tell you the truth before it's too late.

At Weiss Ratings, we've been telling investors the hard truths for the last 50 years. Our research and ratings are so accurate, they have been praised by Members of Congress,the U.S. Government Accountability Office (the GAO), Forbes magazine, Barron's, The New York Times and countless others. That's because we have the most accurate — and the most powerful — ratings system in the world. In The Wall Street Journal, the Weiss stock ratings were ranked #1 — ahead of all major rating agencies and research companies covered, including Goldman Sachs, Morgan Stanley, Merrill Lynch and Standard & Poor's …We've spent millions of dollars building our ratings system and almost fifty years perfecting it …We rate 9,997 stocks … 2,169 ETFs … 25,610 mutual funds … and over 1,000 cryptocurrencies … Not to mention practically every bank, credit union and insurance company in the country. All that data — and our unique methodology for analyzing it — gives us an invaluable edge that alerts us to the soft spots in the entire financial system long before anyone else. In fact, our analysts have predicted nearly every major boom, bubble and bust since 1971.

In the late '90s, we were practically the only ones sounding the alarm on the dot-com crisis. We called the top of the market and told our readers to get out. We did the same in 2008. We were the only ones who specifically NAMED and gave advance warnings about the failure or government bailouts of Bear Stearns, Lehman Brothers, General Motors, Fannie Mae, Wachovia, Citigroup, Bank of America and many others. These kinds of on-target warnings prompted Worth magazine to say "Weiss' record is so good compared with that of their competitors … consumers need look no further."

And The New York Times to say, "Weiss was the first to see the dangers and say so unambiguously." Barron's wrote "[Weiss] is the leader in identifying vulnerable companies." Or consider Chris Ruddy. He's the founder of Newsmax and he wrote "Weiss' prediction of the current economic crisis is uncanny. More importantly, our forecasts allowed investors to avoid big losses and even make money as the crisis unfolded. And those who listened could have avoided losses as high as 93% …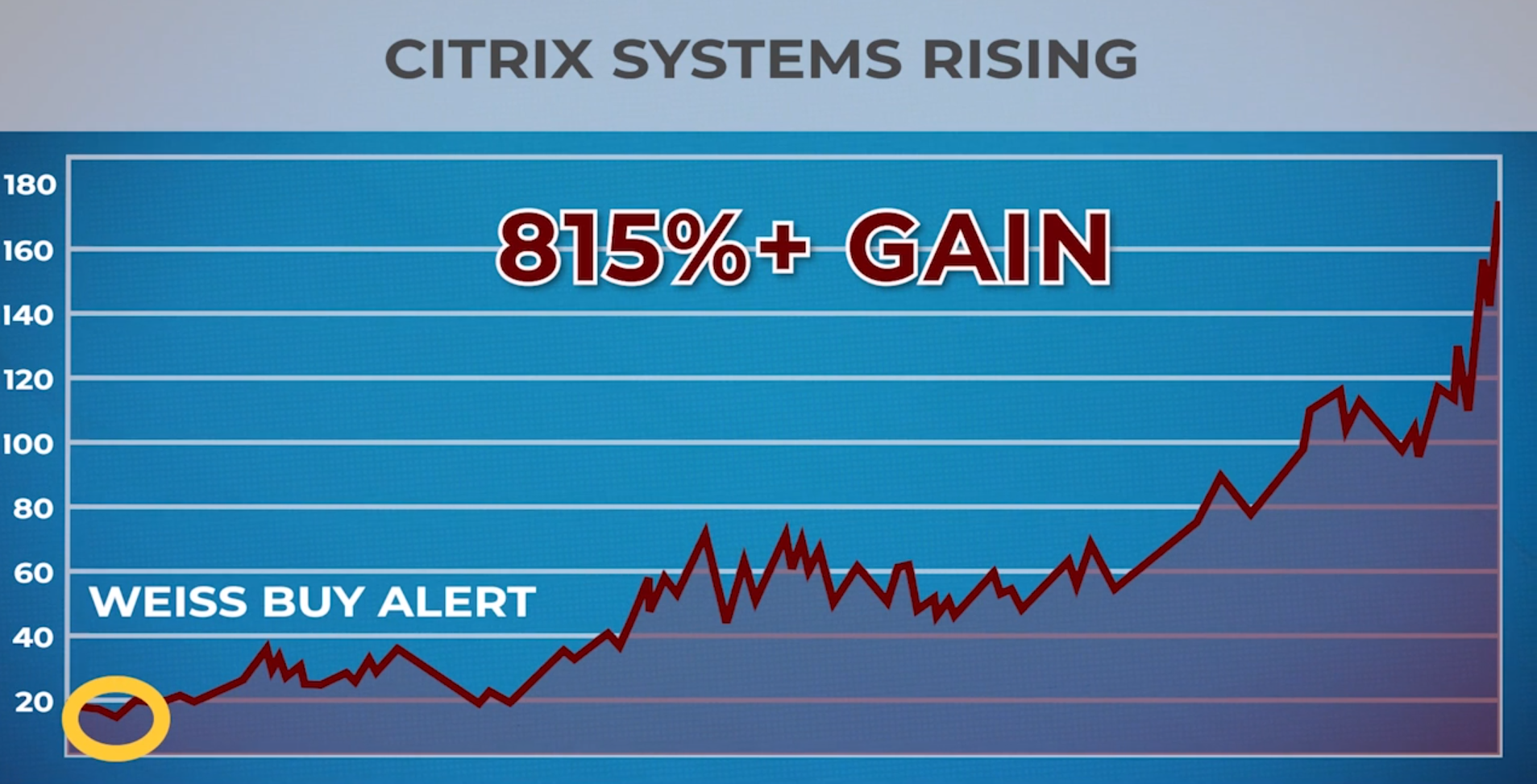 … and had the chance to go for returns of 815% or more when we called the bottom and said it was time to buy. Then, in late 2019, we said that a global disaster would strike the markets in 2020. We didn't predict the COVID pandemic, of course. No one saw THAT coming. But we did predict the consequences: Turmoil in the stock market and the economy, more massive money printing and soaring inflation. That brings us to today …
Our indicators for the Great Money Nightmare — driven by catastrophic inflation — are now flashing red …Now is the time to stand up and really take notice. The situation has become even more urgent, because we're not just seeing it in the economic data, we're seeing it in every aspect of our nation, right before our eyes. Americans living in fear of new unknowns … Washington in turmoil … politics in disarray … Wall Street on the brink …And that's BEFORE inflation really hits millions more Americans in the pocketbook. In 2016, the LIMRA Secure Retirement Institute demonstrated that every 1% increase in the inflation rate would steal $34,406 from the average retiree's purchasing power. This is calculated assuming that the stated inflation rate would rise over a 20-year period.
What about 7%? Then retirees could have been looking at a loss of $240,842. And that's just based on the government's official inflation rate. Non-governmental research organizations — such as Shadow Government Statistics — calculate that the true inflation rate is 13.4%. That would mean $461,040 siphoned off from the average person's retirement. Almost half a million dollars in spending power potentially running away! All because the Fed has let inflation surge out of control.
Now I don't know about you, but I'm not going to sit idly by while hundreds of thousands of dollars of my purchasing power disappear. Fortunately, I don't have to, and neither do you. With some smart money moves, you could sidestep the Great Money Nightmare hurtling towards us …. I'll show you how to do that in just a moment.
The U.S. Government has printed and spent so much money; they've caused demand to skyrocket. And they've created a catastrophic shortage of workers, making it impossible for businesses to provide enough goods and services to meet demand. And it doesn't look like this labor crisis will end any time soon. Even when the $2-trillion CARES act was phased out, slashing federal unemployment assistance, millions of people still didn't go back to their old jobs. Here's the way I see all this playing out. The result appears to be inevitable: Rampant, galloping inflation — a frightening scenario in America unlike anything we've seen before …Interest rates soaring into double digits, but inflation wiping it all out and more …Bond yields going through the roof, but their market values wiped out — down to $0.50, $0.25, even $0.10 for every dollar of face value … The stock market enjoying what appears to be its biggest bull market in history, but all for naught because the value of your money falls a lot faster …
The average American is losing buying power — no matter how high his salary SEEMS to be going up …Massive labor strikes and collective walkouts, even nationwide shutdowns … followed by huge wage increases … and then walkouts that are even bigger. I want to be crystal clear: The government is not coming to save you. From everything I know and see, there's nothing they can do to stop inflation and save your retirement. I hate to be the bearer of bad news, but in good conscience, I can't simply watch the savings of hard-working people get swept away by this tidal wave. After all, if you knew disaster was heading my way, you'd want to tell me, right? You'd want to arm me with knowledge so I could prepare, protect myself and even profit from the situation if possible. That's what I'm doing for you today. You can't stop inflation, but …You CAN stop it from killing your retirement. You CAN stop it from wiping out your savings. And you can even use this inflationary environment to your advantage. How? Now we get to the meat of this conversation.
I've uncovered a short list of investments that I feel are ideal for this situation. I call them the Inflation Winners. If consumer price inflation surges to just 9% per year — a level that's just a few points away — I predict that my favorite investments will surge in value. If inflation surges to 14% — like it did in 1980 when the public debt was just 25% of GDP — or if we see inflation in the high double digits — which is certainly possible with the public debt now at 132% of GDP — I believe investors will be shocked at how much asset protection my Inflation Winners will provide. For one thing, these are investments that performed exceptionally well during the last major bout of inflation back in the late '70s and early '80s.
BIG INFLATION WINNERS
Inflation Winner #1 went up 70%.
Inflation Winner #2 went up 100%.
Inflation Winner #3 went up 102%.
Inflation Winner #4 went up 199%.
Inflation Winner #5 went up 271%.
Inflation Winner #6 went up 296%.
And they weren't the biggest winners of all … That's looking in the rear-view mirror, of course. But even if conditions today are very different, I think that history is good evidence of the potential for the Inflation Winners I've identified this time around. This time, I've identified SEVEN Inflation Winners. As prices continue to rise. As supplies continue to dry up. As the government continues to spend or print money like there's no tomorrow. As more workers demand higher wages. And as people wake up to just how dire the inflation actually is … I predict my Inflation Winners will go up as much, or possibly even more, than most of the Inflation Winners of the 1970s.

]

You search the Scriptures, for in them you think you have eternal life;
and these are they which testify of Me.
 "But you are not willing to come to Me that you may have life.
  "I do not receive honor from men.
 "But I know you, that you do not have the love of God in you.

 "I have come in My Father's name, and you do not receive Me;
if another comes in his own name, him you will receive.
(John 5:39-43)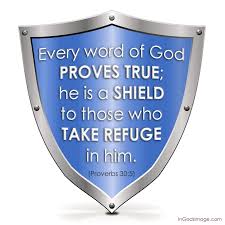 Lambert's Place
Lambert's Main Library 
Email Lambert Dolphin
Archive for Newsletters
Library Annex (Articles since 2018)

May 3, 2022.