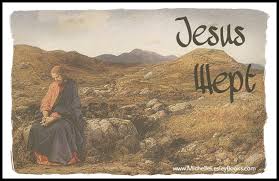 Jesus Wept
Isaiah 53
Who hath believed our report? and to whom is the arm of the LORD revealed?
For he shall grow up before him as a tender plant, and as a root out of a dry ground:
he hath no form nor comeliness; and when we shall see him, 
there is no beauty that we should desire him.

He is despised and rejected of men; a man of sorrows, and acquainted with grief:
and we hid as it were our faces from him; he was despised, and we esteemed him not.
Surely he hath borne our griefs, and carried our sorrows:
yet we did esteem him stricken, smitten of God, and afflicted.

But he was wounded for our transgressions, he was bruised for our iniquities:
the chastisement of our peace  was upon him; and with his stripes we are healed.
All we like sheep have gone astray; we have turned every one to his own way;
and the LORD hath laid on him the iniquity of us all.

He was oppressed, and he was afflicted, yet he opened not his mouth:
he is brought as a lamb to the slaughter, and as a sheep before her shearers is dumb,
so he openeth not his mouth.
He was taken from prison and from judgment:
and who shall declare his generation?
for he was cut off out of the land of the living:
for the transgression of my people was he stricken.

And he made his grave with the wicked, and with the rich in his death;
because he had done no violence, neither was any deceit in his mouth.
He shall see of the travail of his soul, and shall be satisfied:
by his knowledge shall my righteous servant justify many;
for he shall bear their iniquities.

Therefore will I divide him a portion with the great,
and he shall divide the spoil with the strong;
because he hath poured out his soul unto death:
and he was numbered with the transgressors;
and he bare the sin of many,
and made intercession for the transgressors.


Jesus Wept when Lazarus died 
Then Mary, when she came where Jesus was and saw him, fell at his feet, saying to him, "Lord, if you had been here, my brother would not have died."


When Jesus saw her weeping, and the Jews who came with her also weeping, he was deeply moved in spirit and troubled; and he said, "Where have you laid him?"

They said to him, "Lord, come and see."


Jesus wept.


So the Jews said, "See how he loved him!"  (John 11:28-37)

Dominus Flevit
(The Lord Wept)
Entering Jerusalem on a donkey for the last week of his life:
Jesus Wept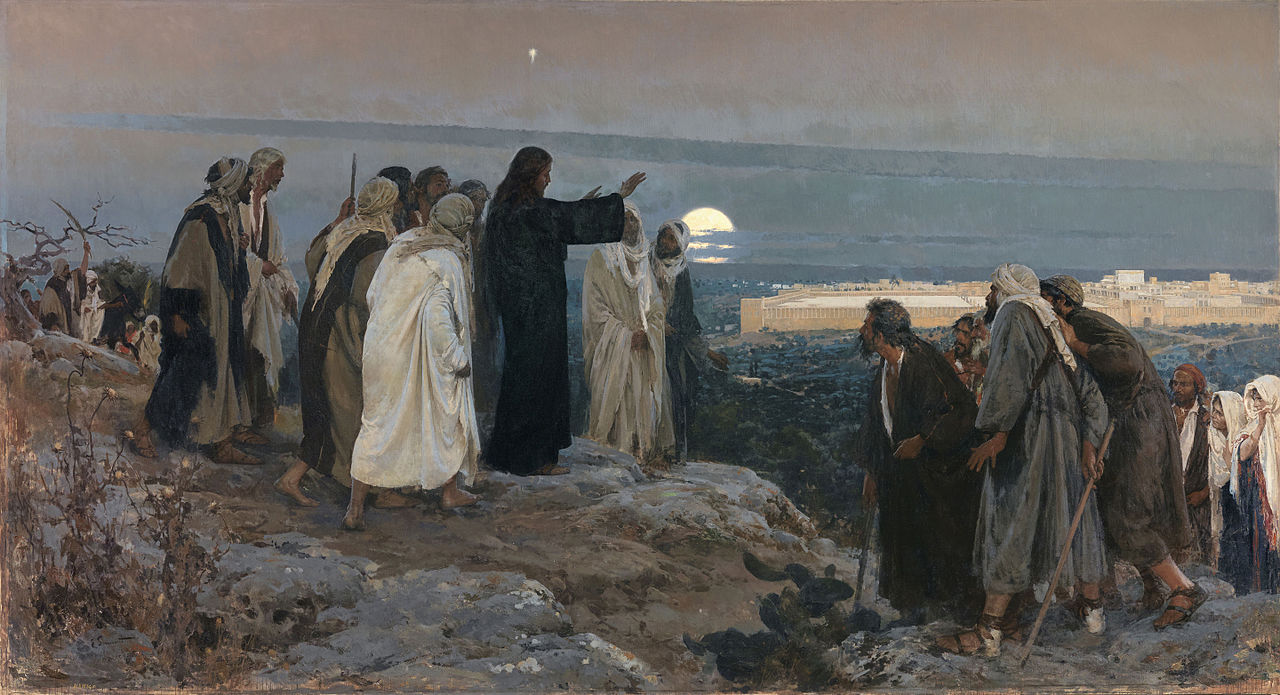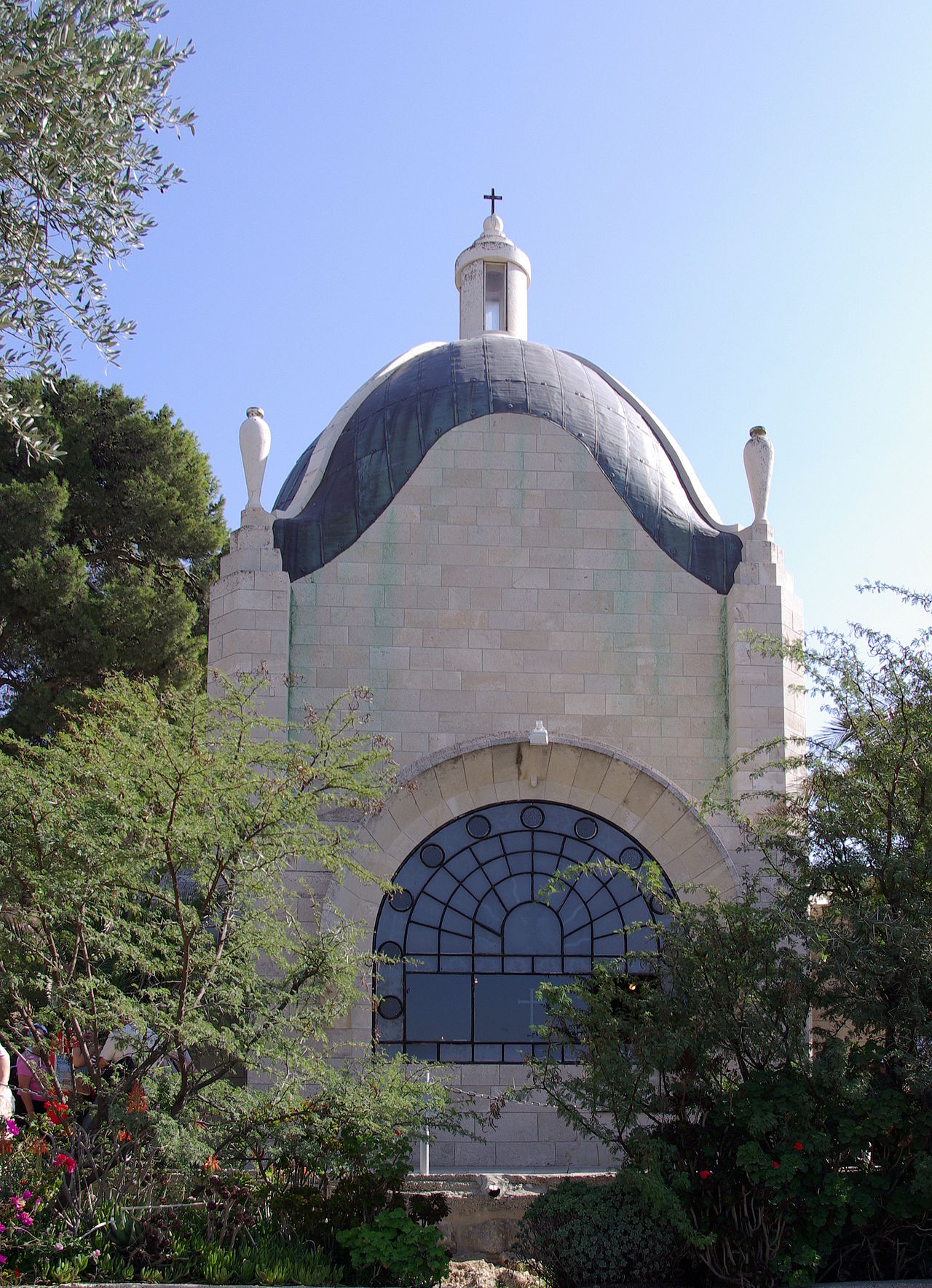 |||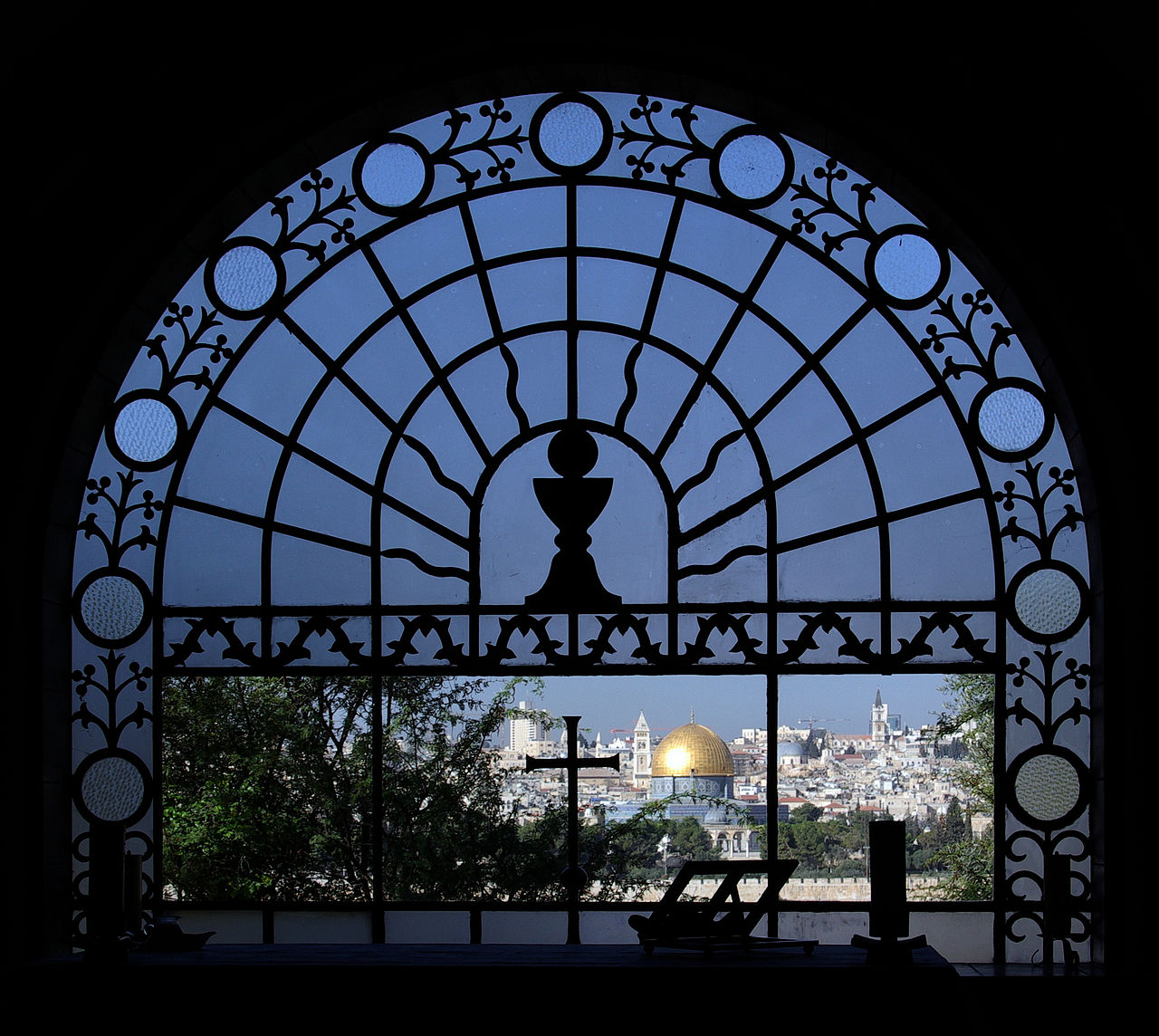 Ray Stedman: "Never speak words of judgment over a man unless you can cry." (Matthew 23)

The Death of Ben-Hadad: 2 Kings 8:7  
Then Elisha went to Damascus, and Ben-Hadad king of Syria was sick; and it was told him, saying, "The man of God has come here." 8 And the king said to Hazael, "Take a present in your hand, and go to meet the man of God, and inquire of the LORD by him, saying, 'Shall I recover from this disease?' " 9 So Hazael went to meet him and took a present with him, of every good thing of Damascus, forty camel-loads; and he came and stood before him, and said, "Your son Ben-Hadad king of Syria has sent me to you, saying, 'Shall I recover from this disease?' " And Elisha said to him, "Go, say to him, 'You shall certainly recover.' However the LORD has shown me that he will really die." 11 Then he set his countenance in a stare until he was ashamed;

and the man of God wept.

12 And Hazael said, "Why is my lord weeping?" He answered, "Because I know the evil that you will do to the children of Israel: Their strongholds you will set on fire, and their young men you will kill with the sword; and you will dash their children, and rip open their women with child." 13  So Hazael said, "But what is your servant—a dog, that he should do this gross thing?" And Elisha answered, "The LORD has shown me that you will become king over Syria." 14  Then he departed from Elisha, and came to his master, who said to him, "What did Elisha say to you?" And he answered, "He told me you would surely recover." 15 But it happened on the next day that he took a thick cloth and dipped it in water, and spread it over his face so that he died; and Hazael reigned in his place.
Background: Ben-Hadad I, son of Tabrimmon and grandson of Hezion, was king of Aram-Damascus between 885 BC and 865 BC. A figure known only from the Old Testament, Ben-Hadad I was reportedly a contemporary of kings Baasha and Ahab of the Kingdom of Israel and Asa of the Kingdom of Judah. Damascus, Syria, Reign: 885 BC – 865 BC Grandson: Hazael In 2 Kings 6–7, about nine years after Ahab's death, Ben-Hadad II invades Israel and lays siege to Samaria, the capital. The siege went on for so long that the people in the city were starving to death. However, in the middle of the night, the Lord caused the Aramean army to hear sounds of an advancing army. Thinking the king of Israel was receiving help from foreign nations, all of Ben-Hadad's men fled, leaving everything behind. In 2 Kings 8, the prophet Elisha travels to Damascus and relays a paradoxical prophecy to Ben-Hadad II, who was ill: "Go and say to him, 'You will certainly recover.' Nevertheless, the Lord has revealed to me that he will in fact die" (verse 10). Just as Elisha said, Ben-Hadad began to recover from his illness, but then a man named Hazael murdered Ben-Hadad and took the throne of Aram. In 2 Kings 13, Hazael is succeeded by his son, who is also named Ben-Hadad. This final Ben-Hadad was defeated three times by King Jehoash of Israel, fulfilling another prophecy of Elisha (2 Kings 13:1–25). 
Note: "These two men, Elijah and Elisha, both portray the future ministry of the Lord Jesus Christ. Elijah pictures His attitude toward official Israel, reflected in Christ's two cleansings of the Temple with the whip of cords and with flashing eyes, while Elisha pictures the ministry of Jesus to individuals, filled with compassionate tenderness and helpfulness." —Ray Stedman

Jesus Scolds the Religious Leaders of His Day
Woe to the Scribes and Pharisees
1  Then Jesus spoke to the multitudes and to His disciples, 2 saying: 

"The scribes and the Pharisees sit in Moses' seat. 3 "Therefore whatever they tell you to observe, that observe and do, but do not do according to their works; for they say, and do not do. 4 "For they bind heavy burdens, hard to bear, and lay them on men's shoulders; but they themselves will not move them with one of their fingers. 5 "But all their works they do to be seen by men. They make their phylacteries broad and enlarge the borders of their garments. 6 "They love the best places at feasts, the best seats in the synagogues, 7 "greetings in the marketplaces, and to be called by men, 'Rabbi, Rabbi.'
8 "But you, do not be called 'Rabbi'; for One is your Teacher, the Christ, and you are all brethren. 9 "Do not call anyone on earth your father; for One is your Father, He who is in heaven.
10 "And do not be called teachers; for One is your Teacher, the Christ. 11 "But he who is greatest among you shall be your servant. 12 "And whoever exalts himself will be humbled, and he who humbles himself will be exalted.
13  "But woe to you, scribes and Pharisees, hypocrites! For you shut up the kingdom of heaven against men; for you neither go in yourselves, nor do you allow those who are entering to go in.
14 "Woe to you, scribes and Pharisees, hypocrites! For you devour widows' houses, and for a pretense make long prayers. Therefore you will receive greater condemnation. 15  "Woe to you, scribes and Pharisees, hypocrites! For you travel land and sea to win one proselyte, and when he is won, you make him twice as much a son of hell as yourselves. 16  "Woe to you, blind guides, who say, 'Whoever swears by the temple, it is nothing; but whoever swears by the gold of the temple, he is obliged to perform it.' 17 "Fools and blind! For which is greater, the gold or the temple that sanctifies the gold? 18 "And, 'Whoever swears by the altar, it is nothing; but whoever swears by the gift that is on it, he is obliged to perform it.' 19 "Fools and blind! For which is greater, the gift or the altar that sanctifies the gift? 20 "Therefore he who swears by the altar, swears by it and by all things on it. 21 "He who swears by the temple, swears by it and by Him who dwells in it. 22 "And he who swears by heaven, swears by the throne of God and by Him who sits on it.
23  "Woe to you, scribes and Pharisees, hypocrites! For you pay tithe of mint and anise and cummin, and have neglected the weightier matters of the law: justice and mercy and faith. These you ought to have done, without leaving the others undone.
24 "Blind guides, who strain out a gnat and swallow a camel!
25  "Woe to you, scribes and Pharisees, hypocrites! For you cleanse the outside of the cup and dish, but inside they are full of extortion and self-indulgence.
26 "Blind Pharisee, first cleanse the inside of the cup and dish, that the outside of them may be clean also. 27  "Woe to you, scribes and Pharisees, hypocrites! For you are like whitewashed tombs which indeed appear beautiful outwardly, but inside are full of dead men's bones and all uncleanness. 28 "Even so you also outwardly appear righteous to men, but inside you are full of hypocrisy and lawlessness.
29  "Woe to you, scribes and Pharisees, hypocrites! Because you build the tombs of the prophets and adorn the monuments of the righteous, 30 "and say, 'If we had lived in the days of our fathers, we would not have been partakers with them in the blood of the prophets.' 31  "Therefore you are witnesses against yourselves that you are sons of those who murdered the prophets. 32 "Fill up, then, the measure of your fathers' guilt. 33 "Serpents, brood of vipers! How can you escape the condemnation of hell?
34 "Therefore, indeed, I send you prophets, wise men, and scribes: some of them you will kill and crucify, and some of them you will scourge in your synagogues and persecute from city to city, 35 "that on you may come all the righteous blood shed on the earth, from the blood of righteous Abel to the blood of Zechariah, son of Berechiah, whom you murdered between the temple and the altar. 36 "Assuredly, I say to you, all these things will come upon this generation. (Matthew 23:1-36)
Jesus Laments Again over Jerusalem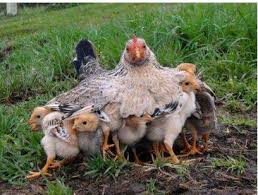 37  "O Jerusalem, Jerusalem,
the one who kills the prophets and stones those who are sent to her!
How often I wanted to gather your children together,
as a hen gathers her chicks under her wings, but you were not willing!

38 "See! Your house is left to you desolate;
39 "for I say to you, you shall see Me no more till you say, 
'Blessed is He who comes in the name of the LORD!' "
|


Third lament, While carrying His Own Cross...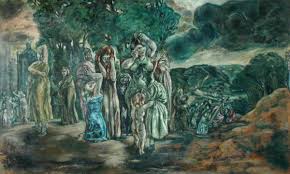 And a great multitude of the people followed Him, and women who also mourned and lamented Him.

But Jesus, turning to them, said,

"Daughters of Jerusalem, do not weep for Me,
but weep for yourselves and for your children.
For indeed the days are coming in which they will say,
'Blessed are the barren, wombs that never bore, and breasts which never nursed!'

Then they will begin to say to the mountains,

"Fall on us!" and to the hills, "Cover us!" '

For if they do these things in the green wood, what will be done in the dry?"
(Luke 23:27-31 NKJV)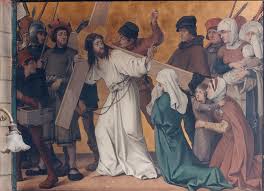 The Light of Christ's Gospel
1  Therefore, since we have this ministry, as we have received mercy, we do not lose heart. 2 But we have renounced the hidden things of shame, not walking in craftiness nor handling the word of God deceitfully, but by manifestation of the truth commending ourselves to every man's conscience in the sight of God. 3 But even if our gospel is veiled, it is veiled to those who are perishing, 4 whose minds the god of this age has blinded, who do not believe, lest the light of the gospel of the glory of Christ, who is the image of God, should shine on them. 5 For we do not preach ourselves, but Christ Jesus the Lord, and ourselves your bondservants for Jesus' sake. 6 For it is the God who commanded light to shine out of darkness, who has shone in our hearts to give the light of the knowledge of the glory of God in the face of Jesus Christ. 7  But we have this treasure in earthen vessels, that the excellence of the power may be of God and not of us. 8 We are hard-pressed on every side, yet not crushed; we are perplexed, but not in despair; 9 persecuted, but not forsaken; struck down, but not destroyed— 10 always carrying about in the body the dying of the Lord Jesus, that the life of Jesus also may be manifested in our body. 11 For we who live are always delivered to death for Jesus' sake, that the life of Jesus also may be manifested in our mortal flesh. 12 So then death is working in us, but life in you. 13  And since we have the same spirit of faith, according to what is written, "I believed and therefore I spoke," we also believe and therefore speak, 14 knowing that He who raised up the Lord Jesus will also raise us up with Jesus, and will present us with you. 15 For all things are for your sakes, that grace, having spread through the many, may cause thanksgiving to abound to the glory of God. 16  Therefore we do not lose heart. Even though our outward man is perishing, yet the inward man is being renewed day by day. 17 For our light affliction, which is but for a moment, is working for us a far more exceeding and eternal weight of glory, 18 while we do not look at the things which are seen, but at the things which are not seen. For the things which are seen are temporary, but the things which are not seen are eternal. (2 Corinthians 4:1–18)
Assurance of the Resurrection
1 For we know that if our earthly house, this tent, is destroyed, we have a building from God, a house not made with hands, eternal in the heavens. 2 For in this we groan, earnestly desiring to be clothed with our habitation which is from heaven, 3 if indeed, having been clothed, we shall not be found naked. 4 For we who are in this tent groan, being burdened, not because we want to be unclothed, but further clothed, that mortality may be swallowed up by life. 5 Now He who has prepared us for this very thing is God, who also has given us the Spirit as a guarantee. 6 So we are always confident, knowing that while we are at home in the body we are absent from the Lord. 7 For we walk by faith, not by sight. 8 We are confident, yes, well pleased rather to be absent from the body and to be present with the Lord. (2 Corinthians 5:1-6)


Priorities Check List for all Followers of Jesus
If then you were raised with Christ, seek those things which are above, where Christ is, sitting at the right hand of God. 2 Set your mind on things above, not on things on the earth. 3 For you died, and your life is hidden with Christ in God. 4 When Christ who is our life appears, then you also will appear with Him in glory. 5  Therefore put to death your members which are on the earth: fornication, uncleanness, passion, evil desire, and covetousness, which is idolatry. 6 Because of these things the wrath of God is coming upon the sons of disobedience, 7 in which you yourselves once walked when you lived in them. 8  But now you yourselves are to put off all these: anger, wrath, malice, blasphemy, filthy language out of your mouth. 9 Do not lie to one another, since you have put off the old man with his deeds, 10 and have put on the new man who is renewed in knowledge according to the image of Him who created him, 11 where there is neither Greek nor Jew, circumcised nor uncircumcised, barbarian, Scythian, slave nor free, but Christ is all and in all.12  Therefore, as the elect of God, holy and beloved, put on tender mercies, kindness, humility, meekness, longsuffering bearing with one another, and forgiving one another, if anyone has a complaint against another; even as Christ forgave you, so you also must do. 14 But above all these things put on love, which is the bond of perfection. 15 And let the peace of God rule in your hearts, to which also you were called in one body; and be thankful. 16 Let the word of Christ dwell in you richly in all wisdom, teaching and admonishing one another in psalms and hymns and spiritual songs, singing with grace in your hearts to the Lord. 17 And whatever you do in word or deed, do all in the name of the Lord Jesus, giving thanks to God the Father through Him." (Colossians 3:1-17)
Revelation Chapter 19 by Ray Stedman
The Rider on the White Horse
The Coming Triumphal Re-Entry of Jesus
I saw heaven standing open and there before me was a white horse, whose rider is called Faithful and True. With justice he judges and makes war. His eyes are like blazing fire, and on his head are many crowns[diadems]. He has a name written on him that no one but he himself knows. He is dressed in a robe dipped in blood, and his name is the Word of God. The armies of heaven were following him, riding on white horses and dressed in fine linen, white and clean. Out of his mouth comes a sharp sword with which to strike down the nations. "He will rule them with an iron scepter." He treads the winepress of the fury of the wrath of God Almighty. On his robe and on his thigh he has this name written:

KING OF KINGS AND LORD OF LORDS. (Revelation 19:11-16 NIV)


The "wrath of God" is His holy anger and opposition to evil. God does not have fits of anger towards evil, but his wrath is stored up because of his suffering love, patience and mercy. He is seriously grieved at our behavior since the beginning of our race. Our complicity in the betrayal and killing of Messiah Jesus is the ultimate insult. But His mercy is greater!

17 Therefore if anyone is in Christ, he is a new creation. The old has passed away. Behold, the new has come! 18 All this is from God, who reconciled us to Himself through Christ and gave us the ministry of reconciliation: 19 that in Christ God was reconciling the world to Himself, not counting men's trespasses against them. And He has committed to us the message of reconciliation. 20 Therefore we are ambassadors for Christ, as though God were making His appeal through us. We implore you on behalf of Christ: Be reconciled to God. 21 God made Him who knew no sin to be sin on our behalf, so that in Him we might become the righteousness of God.

Jesus Was Punished to Pay for Our Sins

The stored up wrath of God was poured out on Jesus on the cross when He traded places with you and me and was punished in our stead.

Romans Chapter 5:

6 For at just the right time, while we were still powerless, Christ died for the ungodly. 7 For rarely will anyone die for a righteous man, though for a good man someone might possibly dare to die. 8 But God proves His love for us in this: While we were still sinners, Christ died for us.

9 Therefore, since we have now been justified by His blood, how much more shall we be saved from wrath through Him! 10 For if, when we were enemies of God, we were reconciled to Him through the death of His Son, how much more, having been reconciled, shall we be saved through His life! 11 Not only that, but we also rejoice in God through our Lord Jesus Christ, through whom we have now received reconciliation.

Our Death in Adam, Our New Life in Christ


12 Therefore, just as sin entered the world through one man, and death through sin, so also death was passed on to all men, because all sinned. 13 For sin was in the world before the law was given; but sin is not taken into account when there is no law. 14 Nevertheless, death reigned from Adam until Moses, even over those who did not sin in the way that Adam transgressed. He is a pattern of the One to come.

15 But the gift is not like the trespass. For if the many died by the trespass of the one man, how much more did God's grace and the gift that came by the grace of the one man, Jesus Christ, abound to the many! 16 Again, the gift is not like the result of the one man's sin: The judgment that followed one sin brought condemnation, but the gift that followed many trespasses brought justification. 17 For if, by the trespass of the one man, death reigned through that one man, how much more will those who receive an abundance of grace and of the gift of righteousness reign in life through the one man, Jesus Christ!

18 So then, just as one trespass brought condemnation for all men, so also one act of righteousness brought justification and life for all men. 19 For just as through the disobedience of the one man the many were made sinners, so also through the obedience of the one man the many will be made righteous.




Extra Credit

New Body Life
A Glorious Church
The Eye of God
Mankind's Downward Spiral
The Times of the Gentiles
The Management of the Universe
The Great God Self 
The Root Cause of Violence in the World 
Caution: History Repeats Itself 
Your God is Way Too Small
New Body Life
Jesus, Judge of All
The Ruthlessness of God
Hide Yourself
Jesus' Death: Six Hours of Eternity on the Cross
In the Cross
Matters of Life and Death


Music

Hymn: Andrae Crouch Soon And Very Soon 
Marching to Zion
 Take Your Shoes off, Moses
Stanley Brothers: Long Journey Home
Caleb Klauder & Reeb Willms - Gloryland
Soon and Very Soon
On Jordan's Stormy Banks 
I Can't Come to the Banquet 
Fifty Miles of Elbow Room
When the Roll is Called up Yonder
When the Trumpet of Lord Shall Sound 
When We All Get to Heaven
This World is Not my Home O Come, O Come Immanuel







Lambert Dolphin 
March 20, 2021

Lambert's Place
Recent Writings (since 2018) 
Email Lambert