We are All Accountable!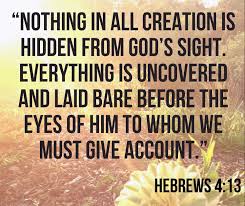 You and I are not here on earth by accident. But we had nothing to say about the when, where, how and the timing of our brief sojourn down here on this small planet (somewhere in space).  We did not choose our gender, our parents, our race, skin color, our place in history. We aren't allowed to remain here on earth that very long either: 70 years is nominal. Quite a few fellow travelers in our generation die too early or get themselves killed.
Recently discovered: A flash of light at conception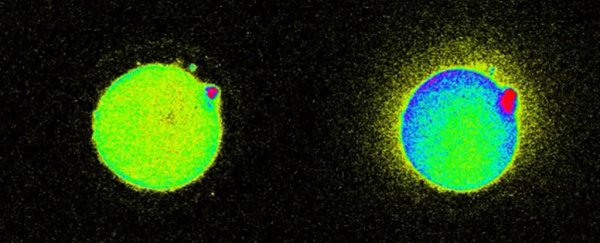 It was, however, no accident that nine months before you were born one unique sperm (competing with millions of others) was invited in to unite with a much larger ovum and you came into being.  I can't remember the night I was conceived. I don't remember the next ~280 days after my conception. I was there when my doctor delivered me and have been on site ever since some 32,485 days later.

According to later reports the first word I said was "light" --when I saw the lamp above the dining room table. I also remember my first electric shock when I put a finger in an open light fixture on the wall. Two grown ups (grups, aka mom and dad) were watching over me so I felt safe, if helpless. When my sister Susanne was born, I was two and a half years old and I know I resented another baby competing for my mom and dad's attention. My first day at school did not go well. When I got there I decided school was not for me so I walked back home. My parents disagreed and so. kicking and screaming, I was taken back to Mrs. Crandall's First Grade Class that afternoon. I was unceremoniously seated in the back row and subsequently imprisoned in the school "system" for the next 18 years. Socially I was a nerd, a sissy, a wimp --not at all comfortable around my peers though I (ego) wanted to make a name for myself in life and "overcome." I felt temporarily safe at home with the grups, with no other options, because I had air to breathe, food to eat, a bed to sleep in, various supplies, such as shoes and clothes, bikes, cars and such. I was a liability in the system of life but never considered that a payback time was inevitable. I ought to contribute to society eventually, honor my parents and pay taxes. Not now of course (and tomorrow never comes). Denial, I later learned is not a river in Egypt.
Way later I discovered, after much searching, was that I was not here on earth by accident and that when this short life of trouble was over I'd die by divine appointment. I also came to realize that death is not extinction, not nirvana, not oblivion. I assumed I was qualified for "heaven" (a dubious assumption even then) but I was going to live forever somewhere like it or not. Your God is Way Too Small.
"…it is appointed for men to die once, (hapax , once) but after this the judgment, (meta tauta krisis)  so Christ was offered once to bear the sins of many. To those who eagerly wait for Him He will appear a second time, apart from sin, for salvation." (Hebrews 9:27)
Only now, decades removed from those formative years, am I dimly aware: that I was no accident, but a created spiritual being "chosen in Christ from the foundation of the world." (Side note: if you feel left out, left behind, go talk to Jesus and He will put your name in His book retroactively.) In fact Bible passages confirm that my very existence, my brief sojourn here, and my individual uniqueness, my immortal destiny were chosen for me by an eternally existing amazing God.
"Blessed (eulogetos, well-spoken of) be the God and Father of our Lord Jesus Christ, who has blessed us with every spiritual blessing in the heavenly places in Christ, just as He chose us in Him before the foundation of the world, that we should be holy and without blame before Him in love, having predestined us to adoption as sons by Jesus Christ to Himself, according to the good pleasure of His will,  to the praise of the glory of His grace, by which He made us accepted in the Beloved.  

In Him we have redemption through His blood, the forgiveness of sins, according to the riches of His grace which He made to abound toward us in all wisdom and prudence, having made known to us the mystery of His will, according to His good pleasure which He purposed in Himself  which are in heaven and which are on earth—in Him. In Him also we have obtained an inheritance, being predestined according to the purpose of Him who works all things according to the counsel of His will, that we who first trusted in Christ should be to the praise of His glory.

In Him you also trusted, after you heard the word of truth, the gospel of your salvation; in whom also, having believed, you were sealed with the Holy Spirit of promise,  who is the guarantee (down payment) of our inheritance until the redemption of the purchased possession, to the praise of His glory." (Ephesians 1:1-14)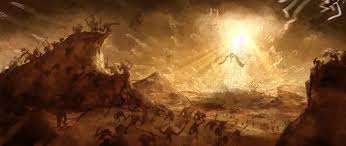 Angels
Books are currently being written about everyone of us by invisible agents--the vast hierarchy of angels! There are "myriads" of them! Nothing escapes their attention. They are Spirit beings constituting "Principalities, powers, thrones, dominions..." in the "heavenly places." (Therefore, me keeping a journal or a diary is no big deal). 


Recording angels are angels in Judaic, Christian, and Islamic angelology. Recording angels are assigned by God with the task of recording the events, actions, and prayers of each individual human. This includes bad sins, and good deeds. In the Book of Malachi 3:16, the prophet describes Heaven as having conferring angels, and "The Lord took note and listened, and a book of remembrance was written before him of those who revered the Lord and thought on his name." In Judaic thought, Gabriel is the principal recording angel, as shown in Ezekiel 9:3-4, where he is "the man clothed in linen, who had the writing case at his side" who put the mark of Passover on Jewish houses in Egypt... To a degree, the recording angel overlaps with the Guardian angel in Christian theology. The guardian angel serves as an individual's recording angel.  (Wikipedia)

Not long ago I told a small group of friends that I was God! It was facetious of course --because I expected the response they gave me: they also thought they were gods and had just as much "right" as I had to run their own lives as I did!

The default religion today is a kind of revived Hinduism of many gods. "I am god, you are god, all of us are gods." "My god is not your god, I realize but we have to get along on this crowded planet. So we all have to compromise."

The Ego Papers! | God and His Angels  | God's Temporary Rule through his Angels | The Names of God in the Bible | THE Angel pf the Lord

The Management of the Universe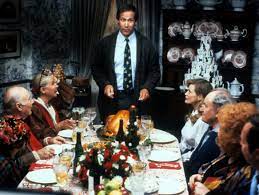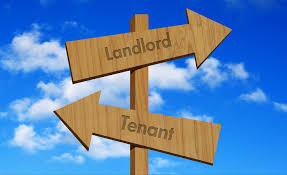 Houseguests, Landlord, Owner
I have been, all along, a house guest in someone else's universe. In general I have been a poor house guest and ought to have been evicted long ago! But apparently my being here in this "house" is not an accident. There are no accidents in God's universe. Invisible managers and caregivers orchestrate everything: the good and the bad alike. A lot of this is done behind the scenes at the "left hand of God."

A reprieve is possible! We have a fantastic Landlord! Get to know Him by meeting His Son and sole Heir, Jesus. Go ahead apply for an extension on your lease, and while you're talking to Him go ahead and apply for a full pardon--He is authorized to grant that.
And, we all need mercy, forgiveness and grace from the Owner of everything -- far more than we realize. Another has paid your back rent.
"And you He made alive, who were dead in trespasses and sins, in which you once walked according to the course of this world, according to the prince of the power of the air, the spirit who now works in the sons of disobedience, among whom also we all once conducted ourselves in the lusts of our flesh, fulfilling the desires of the flesh and of the mind, and were by nature children of wrath, just as the others. But God, who is rich in mercy, because of His great love with which He loved us, even when we were dead in trespasses, made us alive together with Christ (by grace you have been saved), and raised us up together, and made us sit together in the heavenly places in Christ Jesus, that in the ages to come He might show the exceeding riches of His grace in His kindness toward us in Christ Jesus. For by grace you have been saved through faith, and that not of yourselves; it is the gift of God, not of works, lest anyone should boast. For we are His workmanship, created in Christ Jesus for good works, which God prepared beforehand that we should walk in them." (Ephesians 2)
A Parable About the Owner not the Landlord
"Hear another parable: There was a certain landowner who planted a vineyard and set a hedge around it, dug a winepress in it and built a tower. And he leased it to vinedressers and went into a far country. Now when vintage-time drew near, he sent his servants to the vinedressers, that they might receive its fruit. And the vinedressers took his servants, beat one, killed one, and stoned another. Again he sent other servants, more than the first, and they did likewise to them. Then last of all he sent his son to them, saying, 'They will respect my son.' But when the vinedressers saw the son, they said among themselves, 'This is the heir. Come, let us kill him and seize his inheritance.' So they took him and cast him out of the vineyard and killed him.

"Therefore, when the owner of the vineyard comes, what will he do to those vinedressers?" They said to Him, "He will destroy those wicked men miserably, and lease his vineyard to other vinedressers who will render to him the fruits in their seasons." (Matthew 21:33-41)
How Accountable are We?
"Are not two sparrows sold for a copper coin? And not one of them falls to the ground apart from your Father's will. But the very hairs of your head are all numbered. Do not fear therefore; you are of more value than many sparrows." (Matthew 10:29-30)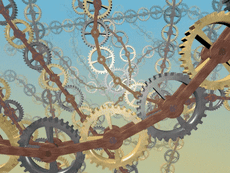 Wheels within wheels
No wonder secular science is fasting fading from having much credibility or viability in our lives!  The universe has many more dimensions than four! No wonder rejection of the one true God has caused our nation to be thrown until the Great Dumpster, the Cosmic Toilet-- ready to be flushed out of our Creator's sight! 

Yes, there is a hell! (It was prepared for the devil and his angels but people can go there as well).

"Now the Lord descended in the  cloud and stood with Moses there, and  proclaimed the name of the Lord. And the Lord passed before him and proclaimed, 'The Lord, the Lord  God, merciful and gracious, longsuffering, and abounding in  goodness and  truth,  keeping mercy for thousands,  forgiving iniquity and transgression and sin,  by no means clearing the  guilty, visiting the iniquity of the fathers upon the children and the children's children to the third and the fourth generation.'" (Exodus 34:5-7)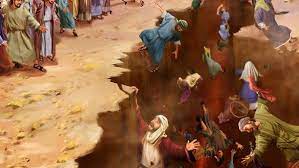 Rebelling against legitimate authority is a huge deal! Have you heard about Korah, the great-grandson of the Levi and the first cousin of Moses and Aaron?

Numbers 16:1–40 indicates that Korah rebelled against Moses along with 249 co-conspirators and were punished for their rebellion when God sent fire from heaven to consume all 250 of them. Korah's Reubenite allies Dathan and Abiram were also punished when God caused the ground to split open beneath their feet swallowing them, their families, anyone associated with Korah, and all their possessions. Furthermore, the Israelites who did not like what had happened to Korah, Dathan and Abiram (and their families) objected to Moses, and God then commanded Moses to depart from the multitude. God then smote 14,700 men with plague, as punishment for objecting to Korah's destruction (Numbers 16:41ff.) "Notwithstanding, the children of Korah died not" (Numbers 26:11). (Wikipedia) 
Some people hope their good works will be rewards and their bad deeds ignored on judgment morning. It doesn't work that way! 


Almighty Father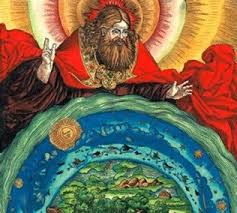 "I watched till thrones were put in place,
And the Ancient of Days was seated;
His garment was white as snow,
And the hair of His head was like pure wool.
His throne was a fiery flame,
Its wheels a burning fire;
A fiery stream issued
And came forth from before Him.
A thousand thousands ministered to Him;
Ten thousand times ten thousand stood before Him.
The court was seated,
And the books were opened."

"I watched then because of the sound of the pompous words which the horn was speaking;
I watched till the beast was slain, and its body destroyed and given to the burning flame

 "As for the rest of the beasts, they had their dominion taken away,
yet their lives were prolonged for a season and a time.

 "I was watching in the night visions,
And behold, One like the Son of Man,
Coming with the clouds of heaven!
He came to the Ancient of Days,
And they brought Him near before Him.

Then to Him was given dominion and glory and a kingdom,
That all peoples, nations, and languages should serve Him.
His dominion is an everlasting dominion,
Which shall not pass away,
And His kingdom the one
Which shall not be destroyed.

(Daniel 7:9-14)


I am the LORD, and there is no other;
There is no God besides Me.
I will gird you, though you have not known Me,
That they may know from the rising of the sun to its setting
That there is none besides Me.

I am the LORD, and there is no other;
 I form the light and create darkness,
I make peace and create calamity;
I, the LORD, do all these things.'

 "Rain down, you heavens, from above,
And let the skies pour down righteousness;
Let the earth open, let them bring forth salvation,
And let righteousness spring up together.
I, the LORD, have created it.

 "Woe to him who strives with his Maker!
Let the potsherd strive with the potsherds of the earth!
Shall the clay say to him who forms it, 'What are you making?'
Or shall your handiwork say, 'He has no hands'?  

Woe to him who says to his father, 'What are you begetting?'
Or to the woman, 'What have you brought forth?' "

 Thus says the LORD,
The Holy One of Israel, and his Maker:
"Ask Me of things to come concerning My sons;
And concerning the work of My hands, you command Me.  

I have made the earth,
And created man on it.
I—My hands—stretched out the heavens,
And all their host I have commanded...  

 Truly You are God, who hide Yourself,

O God of Israel, the Savior!  They shall be ashamed
And also disgraced, all of them;
They shall go in confusion together,
Who are makers of idols.

But Israel shall be saved by the LORD
With an everlasting salvation;
You shall not be ashamed or disgraced
Forever and ever.

For thus says the LORD,
Who created the heavens,
Who is God,
Who formed the earth and made it,
Who has established it,
Who did not create it in vain,
Who formed it to be inhabited:
"I am the LORD, and there is no other.

I have not spoken in secret,
In a dark place of the earth;
I did not say to the seed of Jacob,
'Seek Me in vain';
I, the LORD, speak righteousness,
I declare things that are right.

 "Assemble yourselves and come;
Draw near together,
You who have escaped from the nations.
They have no knowledge,
Who carry the wood of their carved image,
And pray to a god that cannot save.

Tell and bring forth your case;
Yes, let them take counsel together.
Who has declared this from ancient time?
Who has told it from that time?
Have not I, the LORD?
And there is no other God besides Me,
A just God and a Savior;
There is none besides Me.

 "Look to Me, and be saved,
All you ends of the earth!
For I am God, and there is no other.  I
have sworn by Myself;
The word has gone out of My mouth in righteousness,
And shall not return,
That to Me every knee shall bow,
Every tongue shall take an oath.

He shall say,
'Surely in the LORD I have righteousness and strength.
To Him men shall come,
And all shall be ashamed
Who are incensed against Him.

In the LORD all the descendants of Israel
Shall be justified, and shall glory.' "
(Isaiah 45:5-25)

Jesus, Our Role Model and Trailblazer

"Let this mind be in you which was also in Christ Jesus,  who,
being in the form of God, did not consider it robbery to be equal with God,  
but made Himself of no reputation, taking the form of a bondservant, and coming in the likeness of men.  
And being found in appearance as a man,
He humbled Himself and became obedient to the point of death, even the death of the cross.  
Therefore God also has highly exalted Him and given Him the name which is above every name,  
that at the name of Jesus every knee should bow,
of those in heaven, and of those on earth,
and of those under the earth,  
and  that every tongue should confess that Jesus Christ is Lord,
to the glory of God the Father. "
(Philippians 2)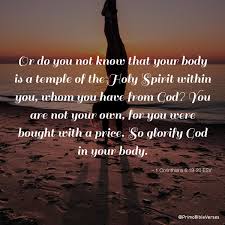 Man's Day -- God's Day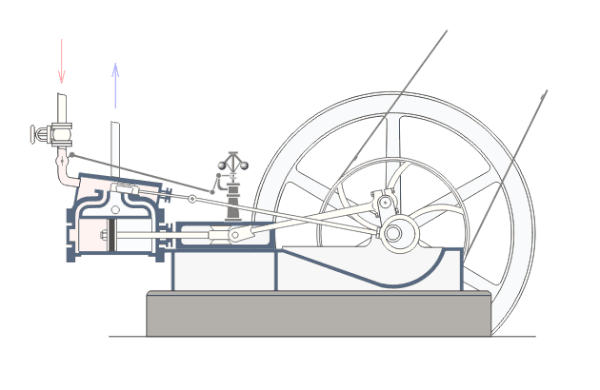 We are still living in man's day. The Day of the Lord is coming soon.
"The great day of the LORD is near, near and hastening fast; the sound of the day of the LORD is bitter, the mighty man cries aloud there. A day of wrath is that day, a day of distress and anguish, a day of ruin and devastation, a day of darkness and gloom, a day of clouds and thick darkness, a day of trumpet blast and battle cry against the fortified cities and against the lofty battlements. I will bring distress on men, so that they shall walk like the blind, because they have sinned against the LORD; their blood shall be poured out like dust, and their flesh like dung. Neither their silver nor their gold shall be able to deliver them on the day of the wrath of the LORD. In the fire of his jealous wrath, all the earth shall be consumed; for a full, yea, sudden end he will make of all the inhabitants of the earth." (Zephaniah 1)
Psalm 10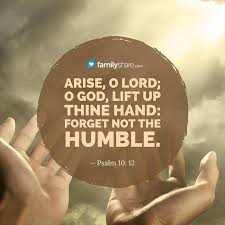 ]

A Song of Confidence in God's Triumph over Evil   
Why do You stand afar off, O LORD?
Why do You hide in times of trouble?

 The wicked in his pride persecutes the poor;
Let them be caught in the plots which they have devised.
 For the wicked boasts of his heart's desire;
He blesses the greedy and renounces the LORD.|
The wicked in his proud countenance does not seek God;

God is in none of his thoughts.
 His ways are always prospering;
Your judgments are far above, out of his sight;
As for all his enemies, he sneers at them.

 He has said in his heart, "I shall not be moved;
I shall never be in adversity."
 His mouth is full of cursing and deceit and oppression;
Under his tongue is trouble and iniquity.

 He sits in the lurking places of the villages;
In the secret places he murders the innocent;
His eyes are secretly fixed on the helpless.

He lies in wait secretly, as a lion in his den;
He lies in wait to catch the poor;
He catches the poor when he draws him into his net.

So he crouches, he lies low,
That the helpless may fall by his strength.

He has said in his heart,
"God has forgotten;
He hides His face;
He will never see."

 Arise, O LORD!
O God, lift up Your hand!
Do not forget the humble.

 Why do the wicked renounce God?
He has said in his heart,
"You will not require an account."

 But You have seen, for You observe trouble and grief,
To repay it by Your hand.
The helpless commits himself to You;
You are the helper of the fatherless.

 Break the arm of the wicked and the evil man;

Seek out his wickedness until You find none.

The LORD is King forever and ever;
The nations have perished out of His land.

LORD, You have heard the desire of the humble;
You will prepare their heart;
You will cause Your ear to hear, |
To do justice to the fatherless and the oppressed,
That the man of the earth may oppress no more.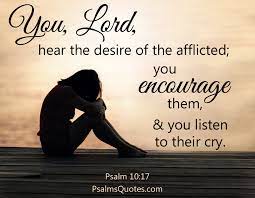 Coming Soon!
No Exceptions
Attendance is Mandatory



Rest Easy if Jesus is your Lord!
"Let us therefore be diligent to enter that rest, lest anyone fall according to the same example of disobedience.  
For the word of God is living and powerful, and sharper than any two-edged sword,
piercing even to the division of soul and spirit, and of joints and marrow, and is a discerner of the thoughts and intents of the heart.
 And there is no creature hidden from His sight, but all things are naked and open to the eyes of Him to whom we must give account.
Seeing then that we have a great High Priest who has passed through the heavens, Jesus the Son of God, let us hold fast our confession.
 For we do not have a High Priest who cannot sympathize with our weaknesses, but was in all points tempted as we are, yet without sin.
 Let us therefore come boldly to the throne of grace, that we may obtain mercy and find grace to help in time of need." (Hebrews 4:11-16)

"Therefore Jesus also, that He might sanctify the people with His own blood, suffered outside the gate.
Therefore let us go forth to Him, outside the camp, bearing His reproach.
 For here we have no continuing city, but we seek the one to come.
Therefore by Him let us continually offer the sacrifice of praise to God,
that is, the fruit of our lips, giving thanks to His name.
 But do not forget to do good and to share, for with such sacrifices God is well pleased.  

Obey those who rule over you, and be submissive, for they watch out for your souls, as those who must give account.
(Logos  apodidomi)
 
Let them do so with joy and not with grief, for that would be unprofitable for you. (Hebrews 13:12-17)
But Clean up your Act as Necessary!
To "repent" means to turn and go in a different direction!


Therefore, since Christ suffered for us in the flesh, arm yourselves also with the same mind, for he who has suffered in the flesh has ceased from sin,
that he no longer should live the rest of his time in the flesh for the lusts of men, but for the will of God.

 For we have spent enough of our past lifetime in doing the will of the Gentiles
—when we walked in lewdness, lusts, drunkenness, revelries, drinking parties, and abominable idolatries.

In regard to these, they think it strange that you do not run with them in the same flood of dissipation, speaking evil of you.

 They will give an account to Him who is ready to judge the living and the dead.

 For this reason the gospel was preached also to those who are dead,
that they might be judged according to men in the flesh, but live according to God in the spirit.

 But the end of all things is at hand; therefore be serious and watchful in your prayers.
 And above all things have fervent love for one another, for "love will cover a multitude of sins."

Be hospitable to one another without grumbling.

As each one has received a gift, minister it to one another, as good stewards of the manifold grace of God.

 If anyone speaks, let him speak as the oracles of God.
If anyone ministers, let him do it as with the ability which God supplies,
that in all things God may be glorified through Jesus Christ,
to whom belong the glory and the dominion forever and ever. Amen.

Beloved, do not think it strange concerning the fiery trial which is to try you,
as though some strange thing happened to you;
but rejoice to the extent that you partake of Christ's sufferings,
that when His glory is revealed, you may also be glad with exceeding joy.  
If you are reproached for the name of Christ, blessed are you, 
for the Spirit of glory and of God rests upon you. 
On their part He is blasphemed, but on your part He is glorified.
 
But let none of you suffer as a murderer, a thief, an evildoer, or as a busybody in other people's matters.  

Yet if anyone suffers as a Christian,
let him not be ashamed, but let him glorify God in this matter.

 For the time has come for judgment to begin at the house of God; and if it begins with us first,
what will be the end of those who do not obey the gospel of God?

 Now

"If the righteous one is scarcely saved,
Where will the ungodly and the sinner appear?"

 Therefore let those who suffer according to the will of God commit their souls to Him in doing good, as to a faithful Creator.
(1 Peter 4)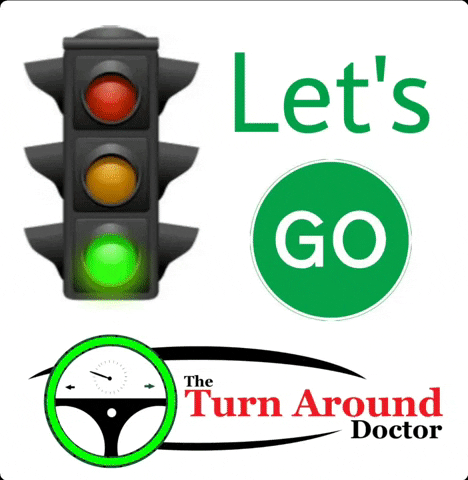 Homework Assignments
King Ego
That Last One Percent
The Complexity of the Genetic Code

The Seed of the Serpent
Almighty Father
Disconnected!
Christ in You
The Exchanged Life
The Key to Everything
The Ego Papers
The Flesh, the World and the Devil
The Unfruitful Tree
How Saved Are You?
The Fruitful Life
The Normal Christian Life
The Content of the Gospel
Stumbling Blocks on the Road to Wholeness
Now!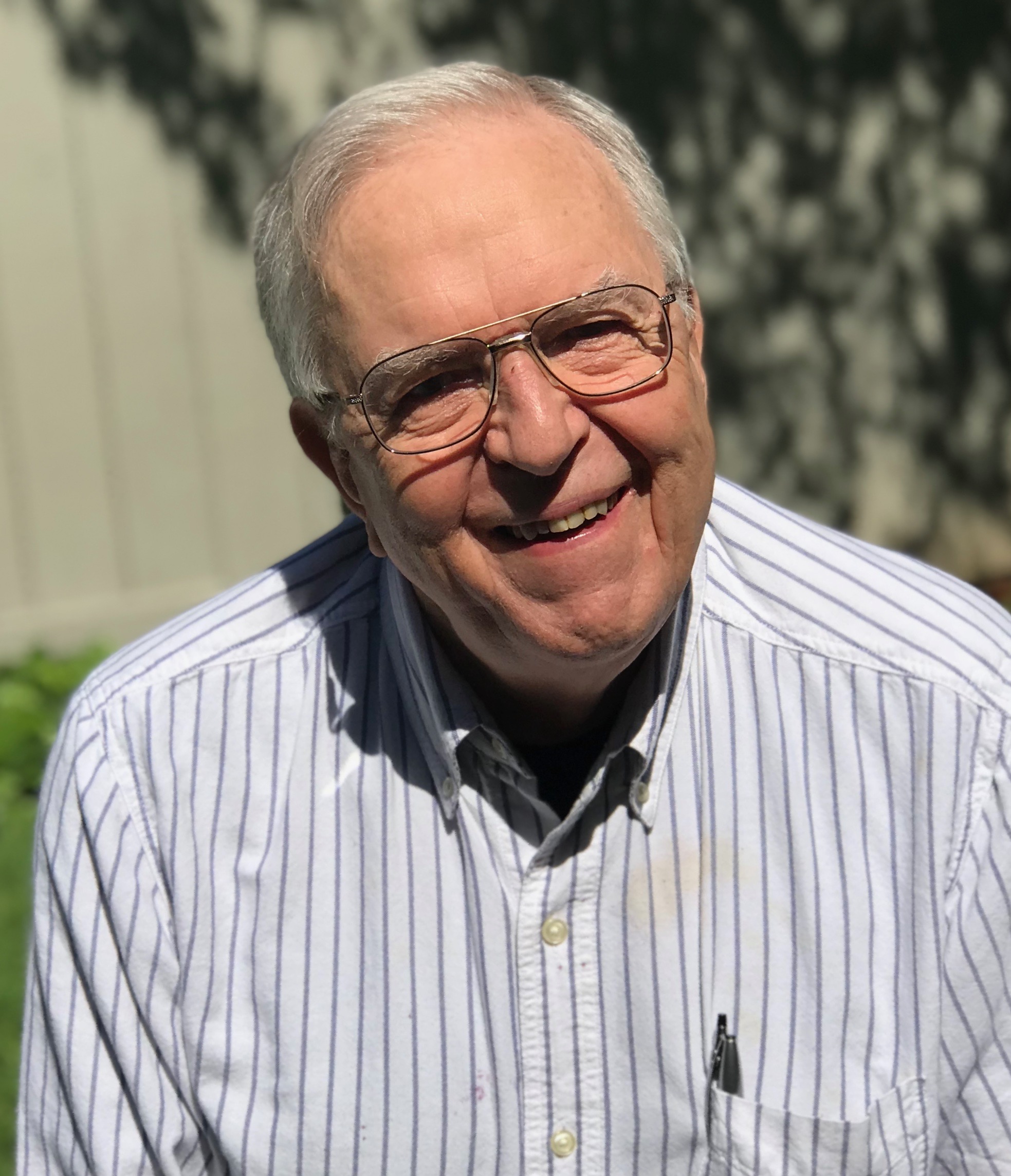 Lambert's Place
Email Welcome: Lambert Dolphin
Archive for Newsletters

Library Annex (Articles since 2018)
June 11, 2021