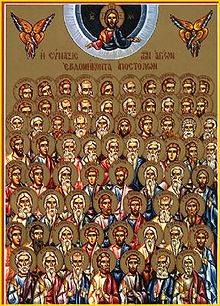 The Seventy
The short public career of Jesus is full of surprises as one reads the four gospels. Much of the action takes place in Galilee or in Perea (modern Jordan), or in Samaria—where huge crowds followed Jesus. He had trained twelve disciples and later taught them how to communicate His message ("the gospel of the kingdom") in the villages of Israel—without His direct on-site help.
They learned well! For instance, Matthew 10:
"And when Jesus had called His twelve disciples to Him, He gave them power over unclean spirits, to cast them out, and to heal all kinds of sickness and all kinds of disease. Now the names of the twelve apostles are these: first, Simon, who is called Peter, and Andrew his brother; James the son of Zebedee, and John his brother; Philip and Bartholomew; Thomas and Matthew the tax collector; James the son of Alphaeus, and Lebbaeus, whose surname was Thaddaeus; Simon the Cananite, and Judas Iscariot, who also betrayed Him.

These twelve Jesus sent out and commanded them, saying: "Do not go into the way of the Gentiles, and do not enter a city of the Samaritans. But go rather to the lost sheep of the house of Israel. And as you go, preach, saying, The kingdom of heaven is at hand.' Heal the sick, cleanse the lepers, raise the dead, cast out demons. Freely you have received, freely give. Provide neither gold nor silver nor copper in your money belts, nor bag for your journey, nor two tunics, nor sandals, nor staffs; for a worker is worthy of his food.

"Now whatever city or town you enter, inquire who in it is worthy, and stay there till you go out. And when you go into a household, greet it. If the household is worthy, let your peace come upon it. But if it is not worthy, let your peace return to you. And whoever will not receive you nor hear your words, when you depart from that house or city, shake off the dust from your feet. Assuredly, I say to you, it will be more tolerable for the land of Sodom and Gomorrah in the day of judgment than for that city!

"Behold, I send you out as sheep in the midst of wolves. Therefore be wise as serpents and harmless as doves. But beware of men, for they will deliver you up to councils and scourge you in their synagogues. You will be brought before governors and kings for My sake, as a testimony to them and to the Gentiles. But when they deliver you up, do not worry about how or what you should speak. For it will be given to you in that hour what you should speak; for it is not you who speak, but the Spirit of your Father who speaks in you.

"Now brother will deliver up brother to death, and a father his child; and children will rise up against parents and cause them to be put to death. And you will be hated by all for My name's sake. But he who endures to the end will be saved. When they persecute you in this city, flee to another. For assuredly, I say to you, you will not have gone through the cities of Israel before the Son of Man comes.

"A disciple is not above his teacher, nor a servant above his master. It is enough for a disciple that he be like his teacher, and a servant like his master. If they have called the master of the house Beelzebub, how much more will they call those of his household! Therefore do not fear them. For there is nothing covered that will not be revealed, and hidden that will not be known.

"Whatever I tell you in the dark, speak in the light; and what you hear in the ear, preach on the housetops. And do not fear those who kill the body but cannot kill the soul. But rather fear Him who is able to destroy both soul and body in hell. Are not two sparrows sold for a copper coin? And not one of them falls to the ground apart from your Father's will. But the very hairs of your head are all numbered. Do not fear therefore; you are of more value than many sparrows.

"Therefore whoever confesses Me before men, him I will also confess before My Father who is in heaven. But whoever denies Me before men, him I will also deny before My Father who is in heaven.

"Do not think that I came to bring peace on earth. I did not come to bring peace but a sword. For I have come to set a man against his father, a daughter against her mother, and a daughter-in-law against her mother-in-law'; and a man's enemies will be those of his own household.' He who loves father or mother more than Me is not worthy of Me. And he who loves son or daughter more than Me is not worthy of Me. And he who does not take his cross and follow after Me is not worthy of Me. He who finds his life will lose it, and he who loses his life for My sake will find it.

"He who receives you receives Me, and he who receives Me receives Him who sent Me. He who receives a prophet in the name of a prophet shall receive a prophet's reward. And he who receives a righteous man in the name of a righteous man shall receive a righteous man's reward. And whoever gives one of these little ones only a cup of cold water in the name of a disciple, assuredly, I say to you, he shall by no means lose his reward."
Or Luke 9:1-11 gives an abbreviated account:
Then He called His twelve disciples together and gave them power and authority over all demons, and to cure diseases. He sent them to preach the kingdom of God and to heal the sick. And He said to them, "Take nothing for the journey, neither staffs nor bag nor bread nor money; and do not have two tunics apiece.

"Whatever house you enter, stay there, and from there depart. And whoever will not receive you, when you go out of that city, shake off the very dust from your feet as a testimony against them."

So they departed and went through the towns, preaching the gospel and healing everywhere...

And the apostles, when they had returned, told Him all that they had done. Then He took them and went aside privately into a deserted place belonging to the city called Bethsaida.

"But when the multitudes knew it, they followed Him; and He received them and spoke to them about the kingdom of God, and healed those who had need of healing."
The calling and training of the Twelve prepared them for how they would spend the rest of their lives (after the resurrection and ascension of their leader). Judas dropped out during their final week, as everyone knows, during their final week in Jerusalem, when Jesus was killed. Paul, Luke and others joined later.
The Book of Acts gives us glimpses into the radical new assignment Jesus would call the 12 to, after His resurrection and ascension. Libraries are full of books on the history of the radical new calling Jesus gave to the disciples (now the apostles).
Much of what Jesus has been doing from His present CEO post (at "the right hand of the majesty on high.") -- in the invisible realm we call heaven -- is available data for all.
This era of the out-calling of the church is delineated in history from God's announced focus as seen in earlier and coming "dispensations."
Jesus has not always been calling people to be part of His ekklesia. There are other groups of saints down through history who belong to Jesus also, and there are great things God will do soon--while we (the church) "watch from the mezzanine" -- after the Rapture.
Mostly for two millennia Jesus has been calling out a church (Matthew 16:27-19) for His name, as He said He would do. This ekklesia is not to be confused with the great false church we see everywhere in the world today!
Great crowds of tens of thousands followed Jesus and pressed him in droves as He traveled in Galilee. There are many examples showing this reality tucked away in the gospels, see for instance Ray Stedman:
After rounding out his amazing activities in Galilee Jesus abruptly announced His final trip to Jerusalem. Jesus "set his face like flint" for Jerusalem. Though He was by then well known with a large following, Jesus initiated a radical new strategy for that last trip--with huge long term implications.
He suddenly pressed into service an advanced team of seventy men. The twelve disciples are well known in history—the "Seventy" are not.
We can infer that this band of brothers listened to, and responded to, Jesus during previous months in Galilee and environs. Did Jesus sit them down for discipleship training? Yes probably, but mostly through "in service training" (which is virtually unknown among believers today).
Luke 10:1-24 is the only place in the four gospels where we read about these 70 Jewish men, their marching orders and their job assignment.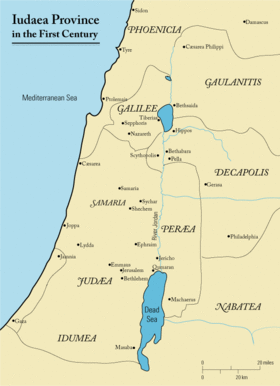 The Seventy Sent Out
"After these things (meta tauta) the Lord appointed seventy others also, and sent them two by two before His face (prosōpon) into every city and place where He Himself was about to go.

Then He said to them, "The harvest truly is great, but the laborers are few; therefore pray the Lord of the harvest to send out laborers into His harvest.

Go your way (hupagō); behold, I send you out as lambs among wolves. Carry neither money bag, knapsack, nor sandals; (take no money, no lunch pail, and go barefooted), and greet no one along the road. But whatever house you enter, first say, 'Peace to this house.' And if a son of peace is there, your peace will rest on it; if not, it will return to you. And remain in the same house, eating and drinking such things as they give, for the laborer is worthy of his wages. Do not go from house to house. Whatever city you enter, and they receive you, eat such things as are set before you. And heal the sick there, and say to them, The kingdom of God has come near to you.'

But whatever city you enter, and they do not receive you, go out into its streets and say, The very dust of your city which clings to us we wipe off against you. Nevertheless know this, that the kingdom of God has come near you.' But I say to you that it will be more tolerable in that Day for Sodom than for that city.

"Woe to you, Chorazin! Woe to you, Bethsaida! For if the mighty works which were done in you had been done in Tyre and Sidon, they would have repented long ago, sitting in sackcloth and ashes. But it will be more tolerable for Tyre and Sidon at the judgment than for you. And you, Capernaum, who are exalted to heaven, will be brought down to Hades. (yet future) He who hears you hears Me, he who rejects you rejects Me, and he who rejects Me rejects Him who sent Me."

They went on their assigned mission, did as they were told (were they gone days or weeks?)

Then the seventy returned with joy, saying, "Lord, even the demons are subject to us in Your name."

And He said to them, "I saw Satan fall like lightning from heaven. (Yet future in earth history—see Revelation 9:1).

Behold, I give you the authority to trample on serpents and scorpions, and over all the power of the enemy, and nothing shall by any means hurt you. (delegated power and authority).

Nevertheless do not rejoice in this, that the spirits are subject to you, but rather rejoice because your names are written in heaven." (You will be kept safe).

In that hour Jesus rejoiced in the Spirit and said,

"I thank You, Father, Lord of heaven and earth, that You have hidden these things from the wise and prudent and revealed them to babes. Even so, Father, for so it seemed good in Your sight. All things have been delivered to Me by My Father, and no one knows who the Son is except the Father, and who the Father is except the Son, and the one to whom the Son wills to reveal Him."

Then He turned to His (12) disciples and said privately, "Blessed are the eyes which see the things you see; for I tell you that many prophets and kings have desired to see what you see, and have not seen it, and to hear what you hear, and have not heard it."
---
In Jewish tradition there were 70 original nations after the Flood, corresponding to the 70 names in Genesis. A strange passage in Deuteronomy says:
When the Most High gave to the nations their inheritance, when he separated the sons of men, he fixed the bounds of the peoples according to the number of the sons of God (bene elohim, LXX: "angels"). For the LORD's portion is his people, Jacob his allotted heritage... (32:8-9)
The Rabbis relate this to Genesis 46:26-27,
All the persons belonging to Jacob who came into Egypt, who were his own offspring, not including Jacob's sons' wives, were sixty-six persons in all; and the sons of Joseph, who were born to him in Egypt, were two; all the persons of the house of Jacob, that came into Egypt, were seventy.
The idea here is that Israel's Messiah is to rule over all the nations of the world from Jerusalem during the coming Millennial kingdom Psalm 2, and Isaiah 60 for instance, show this:
Why do the nations conspire, and the peoples plot in vain? The kings of the earth set themselves, and the rulers take counsel together, against the LORD and his anointed, saying, "Let us burst their bonds asunder, and cast their cords from us." He who sits in the heavens laughs; the LORD has them in derision. Then he will speak to them in his wrath, and terrify them in his fury, saying, "I have set my king on Zion, my holy hill." I will tell of the decree of the LORD: He said to me, "You are my son, today I have begotten you. Ask of me, and I will make the nations your heritage, and the ends of the earth your possession. You shall break them with a rod of iron, and dash them in pieces like a potter's vessel." Now therefore, O kings, be wise; be warned, O rulers of the earth. Serve the LORD with fear, with trembling kiss his feet, lest he be angry, and you perish in the way; for his wrath is quickly kindled. Blessed are all who take refuge in him. (Psalm 2)

Arise, shine; for your light [Israel] has come, and the glory of the LORD has risen upon you. For behold, darkness shall cover the earth, and thick darkness the peoples; but the LORD will arise upon you, and his glory will be seen upon you. And nations shall come to your light, and kings to the brightness of your rising. Lift up your eyes round about, and see; they all gather together, they come to you; your sons shall come from far, and your daughters shall be carried in the arms. Then you shall see and be radiant, your heart shall thrill and rejoice; because the abundance of the sea shall be turned to you, the wealth of the nations shall come to you. A multitude of camels shall cover you, the young camels of Midian and Ephah; all those from Sheba shall come. They shall bring gold and frankincense, and shall proclaim the praise of the LORD. All the flocks of Kedar shall be gathered to you, the rams of Nebai'oth shall minister to you; they shall come up with acceptance on my altar, and I will glorify my glorious house. Who are these that fly like a cloud, and like doves to their windows? For the coastlands [far distant lands] shall wait for me, the ships of Tarshish first, to bring your sons from far, their silver and gold with them, for the name of the LORD your God, and for the Holy One of Israel, because he has glorified you. Foreigners shall build up your walls, and their kings shall minister to you; for in my wrath I smote you, but in my favor I have had mercy on you. Your gates shall be open continually; day and night they shall not be shut; that men may bring to you the wealth of the nations, with their kings led in procession. For the nation and kingdom that will not serve you shall perish... (Isaiah 60:1-12)
...those nations shall be utterly laid waste.
Formal nations and their boundaries were established after the Flood in the Covenant with Noah. Before the Flood the earth was governed, evidently, by patriarchal family units. The above insights show up in Paul's sermon Mars Hill in Athens:
So Paul, standing in the middle of the Areopagus, said: "Men of Athens, I perceive that in every way you are very religious. For as I passed along, and observed the objects of your worship, I found also an altar with this inscription, 'To an unknown god.' What therefore you worship as unknown, this I proclaim to you. The God who made the world and everything in it, being Lord of heaven and earth, does not live in shrines made by man, nor is he served by human hands, as though he needed anything, since he himself gives to all men life and breath and everything. And he made from one every nation of men to live on all the face of the earth, having determined allotted periods and the boundaries of their habitation, that they should seek God, in the hope that they might feel after him and find him. Yet he is not far from each one of us, for `In him we live and move and have our being'; as even some of your poets have said, `For we are indeed his offspring.' Being then God's offspring, we ought not to think that the Deity is like gold, or silver, or stone, a representation by the art and imagination of man. The times of ignorance God overlooked, but now he commands all men everywhere to repent, because he has fixed a day on which he will judge the world in righteousness by a man whom he has appointed, and of this he has given assurance to all men by raising him from the dead." (Acts 17:22-31)
An earlier mention of a group of seventy is found in Exodus 1:1-5:
"Now these are the names of the children of Israel who came to Egypt; each man and his household came with Jacob: Reuben, Simeon, Levi, and Judah; Issachar, Zebulun, and Benjamin; Dan, Naphtali, Gad, and Asher. All those who were descendants of Jacob were seventy persons (for Joseph was in Egypt already)."
---
Conclusion
The mission of the Seventy Evangelists in Luke 10 surely is a fore view of the work of the 144,000 Jewish evangelists mentioned three times in the Book of Revelation. Their work is to take place in a seven year window between the Rapture of the Church and the Second Advent of Jesus (with His church).

Note the hidden clues Jesus gives in Luke 10 above! The 70 were a separate group from the 12 disciples. They were single Jewish males who followed orders and surely knew the 12. They were given a special assignment as forerunners of Jesus ("trail blazers") as He set out on his last ~80 mile walk to Jerusalem.
Their term of service was only for a short season. They were to announce the coming kingdom of Jesus as He was making His final trip to Jerusalem as legitimate King. When they had finished their "short term mission," all 70 reported back to Jesus—not to Peter or to the other disciples! Their orders were not to make disciples for "the church" --since the church did not exist until Pentecost, 50 days after the Resurrection of Jesus.
The Seventy heralded the coming rule of Jesus over all nations as King of kings and Lord of lords.
---
Comments
Lambert,
Quote from your essay....
"and sent them two by two before His face (prosōpon) into every city and place where He Himself was about to go."
I agree with you. Surely the 144,000 will go to all the nations, (like the 70 who were assembled in Egypt, like the 70 who went two-by-two before Jesus declaring the Kingdom of God.) They will be calling all nations of the earth to repentance because the Kingdom of God will finally be truly at hand. Knowing Jesus is right behind them and that he will review their performance afterwards is quite motivating! Once the last word by the 144,000 is spoken....."then the end will come."As Jesus said on the cross, "it is finished"....the struggle is over....He will come to earth and all nations will know why He comes. Just like the 70 Jesus sent out before He Himself showed up. The timing of Jesus arrival, "He Himself was about to go," looks to be very soon after the 144,000 "go before Him."
Maranatha.
"It won't be long, now"
Jim and Karyn Hutchinson
My reply
Thanks Jim! I was amazed when I took a closer look at Luke 10 and saw all that is hidden there in this strange new facet of our Lord's work. It is out of the usual flow of events in the four gospels. The 12 probably missed the significance at the time, which is why Luke only has the details--which he learned later by interviewing everyone he could, since was not one of the 12.
"Meta tauta" are the opening two Greek words of Revelation 4!
God the Father evidently interrupted the routine of travel and Jesus was surprised and delighted. Much new information came to Jesus. The debriefing afterwards was joyful. No one of the 70 got hurt or killed (they traveled broke and barefooted with no weapons). They had great delegated authority and power!
Jesus was well known in these parts, so sending 70 forerunners to announce that Jesus was on his way, would seem redundant. This "great parenthesis" in the ministry of our Lord surely looks ahead to the coming special assignment of the 144,000 Jewish evangelists who will bring millions to Jesus after the Rapture. The 70 are virtually unknown in history but the 12+ are well known by church historians!
The word prosōpon is fascinating.
Matthew 18:10 - "Take heed that ye despise not one of these little ones; for I say unto you, That in heaven their angels do always behold the face of my Father which is in heaven."

Mark 1:2 - "As it is written in the prophets, Behold, I send my messenger before thy face, which shall prepare thy way before thee."
Acts 20:25 - "And now, behold, I know that ye all, among whom I have gone preaching the kingdom of God, shall see my face no more."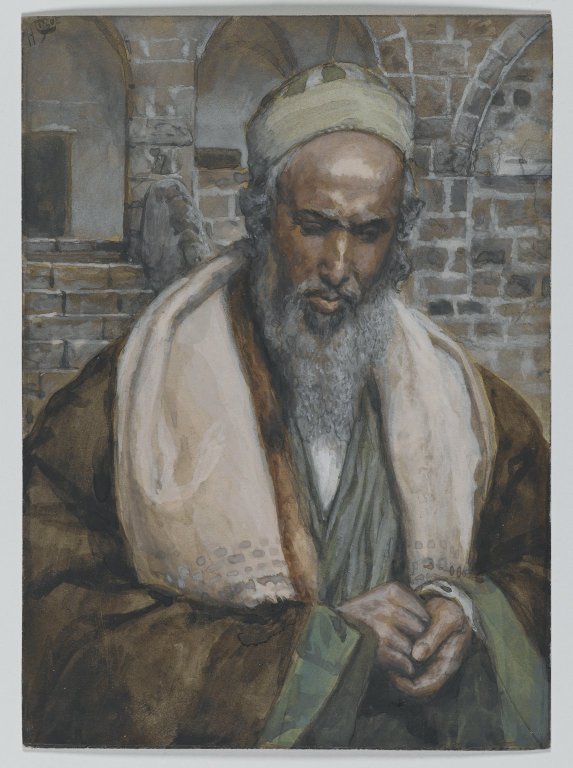 Dr. Luke
More: https://en.m.wikipedia.org/wiki/Luke_the_Evangelist
Email Lambert Dolphin

Added May 12, 2019