The True and the False
One of the really surprising things about the present bewilderment of humanity is that the Christian Church now finds herself called upon to proclaim the old and hated doctrine of sin as a gospel of cheer and encouragement. The final tendency of the modern philosophies, hailed in their day as a release from the burden of sinfulness, has been to bind man hard and fast in the chains of an iron determinism. The influence of heredity and environment, of glandular makeup and the control exercised by the unconscious, of economic necessity and the mechanics of biological development, have all been invoked to assure man that he is not responsible for his misfortune and therefore not to be held guilty. Evil has been represented as something imposed on us from without, not made by us from within. The dreadful conclusion follows inevitably that as he is not responsible for evil; he cannot alter it. Even though evolution and progress may offer some alleviation in the future there is no hope for you and me now. I well remember how an aunt of mine, brought up in an old-fashioned liberalism, protested angrily against having continuously to call herself a miserable sinner when reciting the Litany. Today, if we could really be persuaded that we are miserable sinners, that the trouble is not outside us but inside us, and that therefore, by the grace of God, we can do something to put it right, we should receive that message as the most helpful and heartening thing that can be imagined. (Dorothy Sayers)
The People of the World —- and those few who are Followers of Jesus
The current population of the planet is 7.6 billion and increasing! Thirty-three percent of the people in the world profess Christianity as their religion of choice. This is about 2.3 billion persons who are alive today. (The total number since creation may be as many as 100 billion.) We insider Christians, who know Jesus personally to some degree, doubt that a third of the people in the world know Jesus yet--believers based on common, "mere" association by the masses--with the externals of religion. Friends of mine say candidly they believe that only 10-15% of the world follow Jesus. 760-1140 million persons is still a lot for Jesus to keep track of one-on-one. But God does not desire that any should be lost!
Being born in a "Christian country," or being a church member, obviously says nothing about the inner life of a person. Pretending to be a follower of Jesus can be a convenient ploy to impress other people. The real-deal is about a lifestyle of actual surrender to God one day at a time.
On the other hand, there are surely many ordinary people all over the planet who have called out to God for help—and have been helped directly by Jesus. "Secret Believers" are frequently discovered by missionaries all over the world when they sojourn from home and visit foreign cultures. Great numbers of people are on their way to knowing Jesus--because God is drawing people to Himself all the time. Jesus is a living Person and not everyone who knows him personally has yet to learn His name. Still we all must take care not to tune-in to, and give our allegiance to, a demon. (Exodus 20).
A good number of people when faced with a crisis do call out to God for mercy and help. And Jesus helps them! Most want only to be bailed out, not saved.
There are a number of credible reports (especially from Muslim countries) of individuals who see Jesus in a dream or vision, and give their lives to Jesus then and there. Often they can't talk about their experience even to family or friends, until missionaries with Bibles come to their villages. In the absence of Bible knowledge and in other epochs of history, meeting Jesus in a dream or vision was common! But:
"Truly, these times of ignorance God overlooked, but now commands all men everywhere to repent, because He has appointed a day on which He will judge the world in righteousness by the Man whom He has ordained. He has given assurance of this to all by raising Him from the dead." (Acts 17:30-31)
The Internet revolution has put iPhones into the hands of most of the people in the world today. All who have cell phones can quickly come into knowledge of Jesus. After receiving "head knowledge" of Jesus from surfing the Internet, all who are willing need only give Jesus permission to enter their hearts and be spiritually reborn. (When I was younger, preachers like J. Vernon McGee prayed for the effectiveness of shortwave broadcasts into countries closed to the message of Jesus. Countries once closed to the gospel now often have many secret believers in them.)
Hearing a qualified evangelist teach about who Jesus is, and how we can know Him, is described in detail in 1 Corinthians 15. There is a vast difference between Christianity as a folk religion compared to the pursuit of God, which is about a personal and intimate relationship with Jesus as Lord, coupled by daily obedience to Jesus in real life. Mere profession of faith doesn't hack it.
But! God IS Love! Never underestimate the power of love, directly or through or through others! See Ray Stedman's classic message Love Made Visible.
---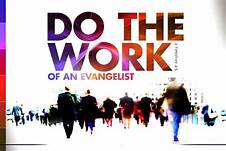 Moreover, brothers (and sisters), I declare to you the gospel which I preached to you, which also you received and in which you stand, by which also you are saved, if you hold fast that word which I preached to you—unless you believed in vain.

For I delivered to you first of all that which I also received: that Christ died for our sins according to the Scriptures, and that He was buried, and that He rose again the third day according to the Scriptures, and that He was seen by Cephas, then by the twelve. After that He was seen by over five hundred brethren at once, of whom the greater part remain to the present, but some have fallen asleep. After that He was seen by James, then by all the apostles. Then last of all He was seen by me also, as by one born out of due time.
For I am the least of the apostles, who am not worthy to be called an apostle, because I persecuted the church of God. But by the grace of God I am what I am, and His grace toward me was not in vain; but I labored more abundantly than they all, yet not I, but the grace of God which was with me. Therefore, whether it was I or they, so we preach and so you believed.

Now if Christ is preached that He has been raised from the dead, how do some among you say that there is no resurrection of the dead? But if there is no resurrection of the dead, then Christ is not risen. And if Christ is not risen, then our preaching is empty and your faith is also empty. Yes, and we are found false witnesses of God, because we have testified of God that He raised up Christ, whom He did not raise up—if in fact the dead do not rise. For if the dead do not rise, then Christ is not risen. And if Christ is not risen, your faith is futile; you are still in your sins! Then also those who have fallen asleep in Christ have perished. If in this life only we have hope in Christ, we are of all men the most pitiable.

But now Christ is risen from the dead, and has become the firstfruits of those who have fallen asleep. For since by man came death, by Man also came the resurrection of the dead. For as in Adam all die, even so in Christ all shall be made alive. But each one in his own order: Christ the firstfruits, afterward those who are Christ's at His coming. Then comes the end, when He delivers the kingdom to God the Father, when He puts an end to all rule and all authority and power. For He must reign till He has put all enemies under His feet. The last enemy that will be destroyed is death. For "He has put all things under His feet." But when He says "all things are put under Him," it is evident that He who put all things under Him is excepted. Now when all things are made subject to Him, then the Son Himself will also be subject to Him who put all things under Him, that God may be all in all.

Otherwise, what will they do who are baptized for the dead, if the dead do not rise at all? Why then are they baptized for the dead? And why do we stand in jeopardy every hour? I affirm, by the boasting in you which I have in Christ Jesus our Lord, I die daily. If, in the manner of men, I have fought with beasts at Ephesus, what advantage is it to me? If the dead do not rise, "Let us eat and drink, for tomorrow we die!"

Do not be deceived: "Evil company corrupts good habits." Awake to righteousness, and do not sin; for some do not have the knowledge of God. I speak this to your shame.

But someone will say, "How are the dead raised up? And with what body do they come?" Foolish one, what you sow is not made alive unless it dies. And what you sow, you do not sow that body that shall be, but mere grain—perhaps wheat or some other grain. But God gives it a body as He pleases, and to each seed its own body.

All flesh is not the same flesh, but there is one kind of flesh of men, another flesh of animals, another of fish, and another of birds.

There are also celestial bodies and terrestrial bodies; but the glory of the celestial is one, and the glory of the terrestrial is another. There is one glory of the sun, another glory of the moon, and another glory of the stars; for one star differs from another star in glory.

So also is the resurrection of the dead. The body is sown in corruption, it is raised in incorruption. It is sown in dishonor, it is raised in glory. It is sown in weakness, it is raised in power. It is sown a natural body, it is raised a spiritual body. There is a natural body, and there is a spiritual body. And so it is written, "The first man Adam became a living being." The last Adam became a life-giving spirit.

However, the spiritual is not first, but the natural, and afterward the spiritual. The first man was of the earth, made of dust; the second Man is the Lord from heaven. As was the man of dust, so also are those who are made of dust; and as is the heavenly Man, so also are those who are heavenly. And as we have borne the image of the man of dust, we shall also bear the image of the heavenly Man.

Now this I say, brethren, that flesh and blood cannot inherit the kingdom of God; nor does corruption inherit incorruption. Behold, I tell you a mystery: We shall not all sleep, but we shall all be changed— in a moment, in the twinkling of an eye, at the last trumpet. For the trumpet will sound, and the dead will be raised incorruptible, and we shall be changed. For this corruptible must put on incorruption, and this mortal must put on immortality. So when this corruptible has put on incorruption, and this mortal has put on immortality, then shall be brought to pass the saying that is written: "Death is swallowed up in victory."

"O Death, where is your sting?
O Hades, where is your victory?"

The sting of death is sin, and the strength of sin is the law. But thanks be to God, who gives us the victory through our Lord Jesus Christ.
Therefore, my beloved brethren, be steadfast, immovable, always abounding in the work of the Lord, knowing that your labor is not in vain in the Lord. (1 Corinthians 15)
---
The New Testament teaches that a false church would develop over time. The counterfeit can be seen today on every side. Rather than resembling a Virgin Bride preparing for her wedding to Jesus, the counterfeit would have the inner character of a prostitute, The Great Harlot.

In ancient Israel's 2000-year history from Abraham to Jesus, only a few actually knew and trusted Yahweh. This group is usually called "the believing remnant." (The Remnant)
The message of Jesus, when announced by His followers does not bring many flocking to know Him these days.
"But although He had done so many signs before them, they did not believe in Him, that the word of Isaiah the prophet might be fulfilled, which he spoke:

"Lord, who has believed our report?
And to whom has the arm of the Lord been revealed?"
Therefore they could not believe, because Isaiah said again:
"He has blinded their eyes and hardened their hearts,
Lest they should see with their eyes,
Lest they should understand with their hearts and turn,
So that I should heal them."
These things Isaiah said when he saw His glory and spoke of Him.

Nevertheless even among the rulers many believed in Him, but because of the Pharisees they did not confess Him, lest they should be put out of the synagogue; for they loved the praise of men more than the praise of God.

Then Jesus cried out and said, "He who believes in Me, believes not in Me but in Him who sent Me. And he who sees Me sees Him who sent Me. I have come as a light into the world, that whoever believes in Me should not abide in darkness. And if anyone hears My words and does not believe, I do not judge him; for I did not come to judge the world but to save the world.

He who rejects Me, and does not receive My words, has that which judges him—the word that I have spoken will judge him in the last day. For I have not spoken on My own authority; but the Father who sent Me gave Me a command, what I should say and what I should speak. And I know that His command is everlasting life. Therefore, whatever I speak, just as the Father has told Me, so I speak." (John 12:37-50)
Because Jesus came to seek and to save those who were lost, and because He desires that no one should every be lost, the ekklesia Jesus is now building will be full of surprises when we see the finished work. Many people we thought would be there will be missing. Many more we assumed would never make it will be joyfully there.
Many today who think they are Christians are missing the mark! They are the rebellious, closeted, compromised, or cultural Christians who fail to see the centrality of surrendering everything to Jesus at the get-go.
The Names of God -- The Content of the Gospel -- The Great Harlot -- The Bride of Christ -- The Remnant -- The Rebellious Ones --The Eightfold Way

We are each accountable for what we know, not what we don't know about Jesus. But ignoring Jesus altogether is a serious matter.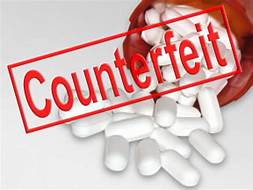 Many fake forms of Christianity have lured away naive, untaught, Biblically illiterate people of our day, drawing them into cults and pseudo-Christian sects. These perils actually commenced in the First Century in opposition to the clear teaching of Jesus and the Apostles. In every generation since, these cults have morphed, shape-shifted, and reformed their window-dressing to look real, when they are actually counterfeit!

Most deadly of all are many of today's mainstream reformed, evangelical, orthodox, charismatic, independent Bible churches, where the Bible is sorta taught by a seminary-trained professional who actually does not know Jesus at all, or who was spiritually reborn earlier in life, but now has lapsed and reverted to the ways of the world. Pride deceives many who are now empire building, or making names for themselves by claiming to serve Jesus when their ego is still king. Compromised churches these days are like cabals emulating the ways of the fallen world they are embedded in.



King Ego -- Dangerous Times -- Three Enemies: the Flesh, the World and the Devil -- The Nature of the Flesh -- The Unconscious Test
---

Psalms 113
Praise the Lord!
Praise, O servants of the Lord,
Praise the name of the Lord!
Blessed be the name of the Lord
From this time forth and forevermore!
From the rising of the sun to its going down
The Lord's name is to be praised.
The Lord is high above all nations,
His glory above the heavens.
Who is like the Lord our God,
Who dwells on high,
Who humbles Himself to behold
The things that are in the heavens and in the earth?
He raises the poor out of the dust,
And lifts the needy out of the ash heap,
That He may seat him with princes—
With the princes of His people.
He grants the barren woman a home,
Like a joyful mother of children.
Praise the Lord!
---

Jesus was very outspoken when He spoke to the religious leaders of His Day. He ended up killed like the prophets before Him!
The message of Jesus, when announced by His followers for two millennia now, has not brought many flocking to know Him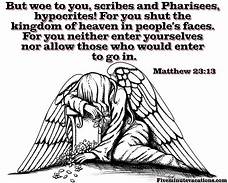 ...Then Jesus spoke to the multitudes and to His disciples, "The scribes and the Pharisees sit in Moses' seat. Therefore whatever they tell you to observe, that observe and do, but do not do according to their works; for they say, and do not do. For they bind heavy burdens, hard to bear, and lay them on men's shoulders; but they themselves will not move them with one of their fingers. But all their works they do to be seen by men. They make their phylacteries broad and enlarge the borders of their garments. They love the best places at feasts, the best seats in the synagogues, greetings in the marketplaces, and to be called by men, 'Rabbi, Rabbi.' But you, do not be called 'Rabbi'; for One is your Teacher, the Christ, and you are all brethren. Do not call anyone on earth your father; for One is your Father, He who is in heaven. And do not be called teachers; for One is your Teacher, the Christ. But he who is greatest among you shall be your servant. And whoever exalts himself will be humbled, and he who humbles himself will be exalted.
"But woe to you, scribes and Pharisees, hypocrites! For you shut up the kingdom of heaven against men; for you neither go in yourselves, nor do you allow those who are entering to go in.
"Woe to you, scribes and Pharisees, hypocrites! For you devour widows' houses, and for a pretense make long prayers. Therefore you will receive greater condemnation.
"Woe to you, scribes and Pharisees, hypocrites! For you travel land and sea to win one proselyte, and when he is won, you make him twice as much a son of hell as yourselves.
"Woe to you, blind guides, who say, Whoever swears by the temple, it is nothing; but whoever swears by the gold of the temple, he is obliged to perform it.' Fools and blind! For which is greater, the gold or the temple that sanctifies the gold? And, 'Whoever swears by the altar, it is nothing; but whoever swears by the gift that is on it, he is obliged to perform it.' Fools and blind! For which is greater, the gift or the altar that sanctifies the gift? Therefore he who swears by the altar, swears by it and by all things on it. He who swears by the temple, swears by it and by Him who dwells in it. And he who swears by heaven, swears by the throne of God and by Him who sits on it.
"Woe to you, scribes and Pharisees, hypocrites! For you pay tithe of mint and anise and cummin, and have neglected the weightier matters of the law: justice and mercy and faith. These you ought to have done, without leaving the others undone. Blind guides, who strain out a gnat and swallow a camel!
"Woe to you, scribes and Pharisees, hypocrites! For you cleanse the outside of the cup and dish, but inside they are full of extortion and self-indulgence. Blind Pharisee, first cleanse the inside of the cup and dish, that the outside of them may be clean also.
"Woe to you, scribes and Pharisees, hypocrites! For you are like whitewashed tombs which indeed appear beautiful outwardly, but inside are full of dead men's bones and all uncleanness. Even so you also outwardly appear righteous to men, but inside you are full of hypocrisy and lawlessness.
"Woe to you, scribes and Pharisees, hypocrites! Because you build the tombs of the prophets and adorn the monuments of the righteous, and say, 'If we had lived in the days of our fathers, we would not have been partakers with them in the blood of the prophets.'
"Therefore you are witnesses against yourselves that you are sons of those who murdered the prophets. Fill up, then, the measure of your fathers' guilt. Serpents, brood of vipers! How can you escape the condemnation of hell? Therefore, indeed, I send you prophets, wise men, and scribes: some of them you will kill and crucify, and some of them you will scourge in your synagogues and persecute from city to city, that on you may come all the righteous blood shed on the earth, from the blood of righteous Abel to the blood of Zechariah, son of Berechiah, whom you murdered between the temple and the altar. Assuredly, I say to you, all these things will come upon this generation.
"O Jerusalem, Jerusalem, the one who kills the prophets and stones those who are sent to her! How often I wanted to gather your children together, as a hen gathers her chicks under her wings, but you were not willing! See! Your house is left to you desolate; for I say to you, you shall see Me no more till you say, Blessed is He who comes in the name of the Lord!' " (Matthew 23)
There is coming a great divide in history when Jesus Himself will let everyone know who His friends and followers are and who He never knew!
"When the Son of Man comes in His glory, and all the holy angels with Him, then He will sit on the throne of His glory. All the nations will be gathered before Him, and He will separate them one from another, as a shepherd divides his sheep from the goats. And He will set the sheep on His right hand, but the goats on the left. Then the King will say to those on His right hand, 'Come, you blessed of My Father, inherit the kingdom prepared for you from the foundation of the world: for I was hungry and you gave Me food; I was thirsty and you gave Me drink; I was a stranger and you took Me in; I was naked and you clothed Me; I was sick and you visited Me; I was in prison and you came to Me.'

'Then the righteous will answer Him, saying, 'Lord, when did we see You hungry and feed You, or thirsty and give You drink? When did we see You a stranger and take You in, or naked and clothe You? Or when did we see You sick, or in prison, and come to You?' And the King will answer and say to them, 'Assuredly, I say to you, inasmuch as you did it to one of the least of these My brethren, you did it to Me.'

"Then He will also say to those on the left hand, 'Depart from Me, you cursed, into the everlasting fire prepared for the devil and his angels: for I was hungry and you gave Me no food; I was thirsty and you gave Me no drink; I was a stranger and you did not take Me in, naked and you did not clothe Me, sick and in prison and you did not visit Me.'

"Then they also will answer Him, saying, 'Lord, when did we see You hungry or thirsty or a stranger or naked or sick or in prison, and did not minister to You?' Then He will answer them, saying, 'Assuredly, I say to you, inasmuch as you did not do it to one of the least of these, you did not do it to Me.' And these will go away into everlasting punishment, but the righteous into eternal life." (Matthew 25:31-46)
The world is actually a hostile place to live. At present the planet is enemy-held territory. In many parts of the world today, naming the name of Jesus will get a person killed, slaughtered--along with family and friends in many cases.

Paul, the ex-Pharisee and once hater of Jesus, saw the Light:
...But what things were gain to me, these I have counted loss for Christ. Yet indeed I also count all things loss for the excellence of the knowledge of Christ Jesus my Lord, for whom I have suffered the loss of all things, and count them as rubbish, that I may gain Christ and be found in Him, not having my own righteousness, which is from the law, but that which is through faith in Christ, the righteousness which is from God by faith; that I may know Him and the power of His resurrection, and the fellowship of His sufferings, being conformed to His death, if, by any means, I may attain to the resurrection from the dead.

Not that I have already attained, or am already perfected; but I press on, that I may lay hold of that for which Christ Jesus has also laid hold of me. Brethren, I do not count myself to have apprehended; but one thing I do, forgetting those things which are behind and reaching forward to those things which are ahead, I press toward the goal for the prize of the upward call of God in Christ Jesus.

Therefore let us, as many as are mature, have this mind; and if in anything you think otherwise, God will reveal even this to you. Nevertheless, to the degree that we have already attained, let us walk by the same rule, let us be of the same mind.

Brethren, join in following my example, and note those who so walk, as you have us for a pattern. For many walk, of whom I have told you often, and now tell you even weeping, that they are the enemies of the cross of Christ: whose end is destruction, whose god is their belly, and whose glory is in their shame—who set their mind on earthly things. For our citizenship is in heaven, from which we also eagerly wait for the Savior, the Lord Jesus Christ, who will transform our lowly body that it may be conformed to His glorious body, according to the working by which He is able even to subdue all things to Himself. (Philippians 3:7-21)
Going Forward
If you know Jesus Christ personally please know that Lone-Ranger Christianity is for the birds. Jesus has forgiven you of all your sins: past, present and future (He paid for all this with His life, to bring you into His family.) The true church Jesus is now building is called the "Body of Christ" and also the "Bride of Christ." Not only are we "members of one other" directly accountable to Jesus the Head, we constitute the very "Bride of Christ" preparing for a cosmic wedding.
I, (Paul) therefore, the prisoner of the Lord, beseech you to walk worthy of the calling with which you were called, with all lowliness and gentleness, with longsuffering, bearing with one another in love, endeavoring to keep the unity of the Spirit in the bond of peace. There is one body and one Spirit, just as you were called in one hope of your calling; one Lord, one faith, one baptism; one God and Father of all, who is above all, and through all, and in you all.

But to each one of us grace was given according to the measure of Christ's gift. Therefore He says:

"When He ascended on high,
He led captivity captive,
And gave gifts to men."

(Now this, "He ascended"—what does it mean but that He also first descended into the lower parts of the earth? He who descended is also the One who ascended far above all the heavens, that He might fill all things.)
And He Himself gave some to be apostles, some prophets, some evangelists, and some pastors and teachers, for the equipping of the saints for the work of ministry, for the edifying of the body of Christ, till we all come to the unity of the faith and of the knowledge of the Son of God, to a perfect man, to the measure of the stature of the fullness of Christ; that we should no longer be children, tossed to and fro and carried about with every wind of doctrine, by the trickery of men, in the cunning craftiness of deceitful plotting, but, speaking the truth in love, may grow up in all things into Him who is the head—Christ— from whom the whole body, joined and knit together by what every joint supplies, according to the effective working by which every part does its share, causes growth of the body for the edifying of itself in love. (Ephesians 4:1-16)

All people everywhere are without excuse because of the abundance of evidence for God in nature and in creation. Because we are selfish, self-realizing and proud we don't go looking for God and we resist him when He knocks! A coming terrible time of hardship is coming to our planet soon! God will take away from most of the Earth the excess baggage we carry as very rich earth dwellers. We'll see famine and disease and violence running out of control. Vast numbers of people will die, reducing world population greatly. All this to get our attention.
King Ego -- Revelation from God? -- The Coming Intervention of Jesus -- Famine in the Land
Is God Angry? -- The 144,000 -- The Seventy -- The Last Church before the Rapture


Help is on the way for those who are willing to be saved, to be adopted into God's family. Think about a decadent culture and an apathetic church which is flunking out of her calling now. Think of Jesus in person interfering boldly to save us from ourselves!
---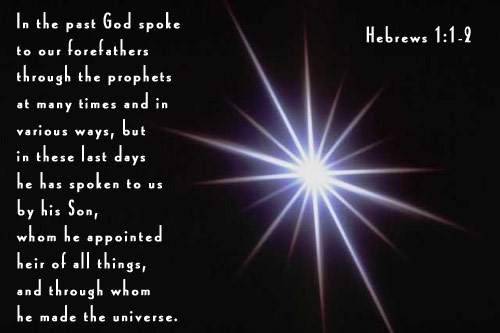 The Supremacy of the Son
God, who at various times and in various ways spoke in time past to the fathers by the prophets,
has in these last days spoken to us by His Son,
whom He has appointed heir of all things,
through whom also He made the worlds;
who being the brightness of His glory and the express image of His person,
and upholding all things by the word of His power,
when He had by Himself purged our sins,
sat down at the right hand of the Majesty on high,
having become so much better than the angels,
as He has by inheritance obtained a more excellent name than they.
For to which of the angels did He ever say:
"You are My Son,
Today I have begotten You"?
And again:
"I will be to Him a Father,
And He shall be to Me a Son"?
But when He again brings the firstborn into the world, He says:
"Let all the angels of God worship Him."
And of the angels He says:
"Who makes His angels spirits
And His ministers a flame of fire."
But to the Son He says:
"Your throne, O God, is forever and ever;
A scepter of righteousness is the scepter of Your kingdom.
You have loved righteousness and hated lawlessness;
Therefore God, Your God, has anointed You
With the oil of gladness more than Your companions."
And:
"You, Lord, in the beginning laid the foundation of the earth,
And the heavens are the work of Your hands.
They will perish, but You remain;
And they will all grow old like a garment;
Like a cloak You will fold them up,
And they will be changed.
But You are the same,
And Your years will not fail."
But to which of the angels has He ever said:
"Sit at My right hand,
Till I make Your enemies Your footstool"?
Are they not all ministering spirits sent forth to minister for those who will inherit salvation?
Therefore we must give the more earnest heed to the things we have heard, lest we drift away. For if the word spoken through angels proved steadfast, and every transgression and disobedience received a just reward,
how shall we escape if we neglect so great a salvation... (Hebrews 1:1 - 2:3)
---
August 31, 2019
September 2, 2019. AZL Edits 12/2/2019.