Chuck captivated my full attention that long day in SoCal. His office file cabinets were packed full of aerial photos, maps, and xeroxed articles on legendary lost treasures around the world. I came home fully convinced that some of these treasure stories might actually be true! Chuck was very well read and he was meticulous in research a project before investing.
I explained that "Remote Sensing" and "Geophysical Methods" might and might not be able to improve the odds of finding sunken ships at the bottom of the ocean, and land based treasures were often difficult to detect for other reasons. Yes, there were half a dozen electric, magnetic, seismic, radar, gravitational methods by which anomalies might be explored to locate buried treasures around the world.
But I also knew that "remote sensing" into the earth or underwater was far more difficult than probing outer space. But the Radio Physics Lab of the Stanford Research Institute (now SRI International) could probably help. I'd talk to my boss.
Time fails me to relate all that followed. Commercial clients were welcome at SRI in addition to government funded endeavors. My boss helped me write a modest official proposal to bring CAK on board, hastening to explain to "higher management" that Lambert was not leading our illustrious not-for-profit org into "treasure hunting." Instead of focusing on the upper atmosphere, high powered space radars and outer space my colleagues and I quickly reached basic geology and basic geophysics. (I also bought all the books on buried treasure around the world—keeping these books out of sight in my office.
In 1987 defense funding dried up for my lab and many of us were laid off, including my wonderful boss Bob Leonard. But CAK kept me and my colleague Roger Vickers busy on his treasure searching projects everywhere! I could write a book! Jesus Christ gave me some of the best years of my life out from under any "church radar" from 1972 to probably 1999.
My lab hired a wonderful retired mining engineer and geologist William B. Beatty to assist all our new geophysical projects. As a boy of 10 or so, Bill fell into a Threshing Machine losing his lower right leg. Undaunted he was willing to crawl into any old mine (safe or not). In '74 he climbed to the top of the Great Pyramid undaunted while I cowered at the bottom.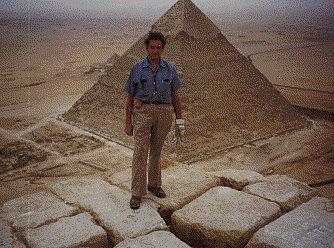 I remember well Bill and I were invited to explore an old mine near Silver City, NM by a certain Walter Rector, the current caretaker. Bill knew the whole history of the mine ahead of time and why it had been abandoned. But Walter said to Bill and me, "If you and your colleagues can use your radar to help me find the lost Bridal Chamber with its untold millions of silver, I'll see to it that you and your friends never have to work another day of your lives." Walter was like many wonderful old timers back then, each with tall tales to tell! It mattered little to me financially if we ever found a buried treasure chest of good coins or an ore pocket of rich ore in an abandoned mine. My colleagues and I provided the best professional support we could. A priori we always assumed the client's story was true.
But I digress! Back in 1993 while hanging out with a group of Christian college students from Stanford I asked them what they thought were the most important priorities in life. They all came at first with standard secular answers though they all were all followers of Jesus.
Yet the Bible has wonderful insights into "treasure" whether anyone takes God seriously or not. Jesus Christ made a definitive statement about where we should store the fruit of our labor in this life. Turns out, our self efforts in this life
Obviously knowing and obeying God is the only way we can really "lay up treasures in heaven."
Money, Sex and Power are big issues for most men! See the following related articles:
Almost no one takes Jesus or the Bible seriously these days. Yet ignoring an important person--who very much wants to know you--is a serious insult. The Apostles teach that every follower of Jesus needs to pay attention to Jesus, 24/7.
The earth we live on is scheduled for total destruction soon! We are only houseguests in a universe built, owned and managed by an infinitely higher intelligence. But the Owner loves His creation and especially us!

Beloved, I now write to you this second epistle (in both of which I stir up your pure minds by way of reminder), that you may be mindful of the words which were spoken before by the holy prophets, and of the commandment of us, the apostles of the Lord and Savior, knowing this first: that scoffers will come in the last days, walking according to their own lusts, and saying, "Where is the promise of His coming? For since the fathers fell asleep, all things continue as they were from the beginning of creation." For this they willfully forget: that by the word of God the heavens were of old, and the earth standing out of water and in the water, by which the world that then existed perished, being flooded with water. But the heavens and the earth which are now preserved by the same word, are reserved for fire until the day of judgment and perdition of ungodly men.

But, beloved, do not forget this one thing, that with the Lord one day is as a thousand years, and a thousand years as one day. The Lord is not slack concerning His promise, as some count slackness, but is longsuffering toward us, not willing that any should perish but that all should come to repentance.

But the day of the Lord will come as a thief in the night, in which the heavens will pass away with a great noise, and the elements will melt with fervent heat; both the earth and the works that are in it will be burned up. Therefore, since all these things will be dissolved, what manner of persons ought you to be in holy conduct and godliness, looking for and hastening the coming of the day of God, because of which the heavens will be dissolved, being on fire, and the elements will melt with fervent heat? Nevertheless we, according to His promise, look for new heavens and a new earth in which righteousness dwells.

Therefore, beloved, looking forward to these things, be diligent to be found by Him in peace, without spot and blameless... (2 Peter 3:1-14)


"For the word of God is living and powerful, and sharper than any two-edged sword, piercing even to the division of soul and spirit, and of joints and marrow, and is a discerner of the thoughts and intents of the heart. And there is no creature hidden from His sight, but all things are naked and open to the eyes of Him to whom we must give account." (Hebrews 4:12-13)

THE POOR RICH AND THE RICH POOR

by David Roper

"I have more than E. H. Harriman (the railroad magnate), for I have all the money I want, and he hasn't" —John Muir

...But let the brother of humble circumstances glory in his high position; and let the rich man glory in his humiliation, because like flowering grass he will pass away. For the sun rises with a scorching wind, and withers the grass; and its flower falls off, and the beauty of its appearance is destroyed; so too the rich man in the midst of his pursuits will fade away (James 1:9-11).

Once upon a time there was an investment's counselor who encountered a genie on the way to his office. When granted a wish he asked for a copy of US. News and World Report one year hence and hurriedly turned to the market page to plan his killing. He got more than he bargained for, however. There on an opposing page he spied his own face—in an obituary describing his death in an automobile accident the previous day.

That's the trouble with money, you know: we go. "The sun rises with scorching heat and withers the plant; its blossom falls and its beauty is destroyed. In the same way, the rich man will fade away even while he goes about his business" (James 1:10,11). 

The brevity and flimsiness of life have inspired numerous metaphors in literature: human existence is compared to a dream, a flying shuttle, a mist, a puff of smoke, a shadow, a gesture in the air, a sentence written in the sand. Here James compares our life span to a spray of flowers that wither and die in the wind. 

We invest their entire lives trying to accumulate money. We ruin our vacations, health, marriages, children, and friendships—and for what? In the end we wither and die and leave our wealth behind. That's why money is a very bad investment. 

There's more to money, however, than the fact that we leave it behind. The greater problem is that it can ruin our lives right now. It makes us believe that money, when we have enough of it, will make us secure and significant. 

Jacob Needleman, writes in the introduction to his book, Money and the Meaning of Life, "I have always pictured poverty as associated with fear and anxiety about the future, fear of abandonment, fear of physical danger, and fear of loneliness. I see the poor as trapped, tense, cunning, harsh. I see them bored, empty of hope, or consumed by absurd fantasies...." The answer, he goes on to say, is to make money, for it's money that tells us "You're significant." 

Money does talk, as Needleman insists, but mostly it lies to us. It really isn't true that money will make us feel successful and secure. The well–heeled know it isn't true: enough is never enough. Having money is just a goad to get more.

Furthermore, money also deceives us by telling us that when we have it we are wise and powerful. As Tevya, the fiddler on the roof, mused, when you got rich it doesn't matter if you answer right or wrong, "cause when you're rich they think you really know." Isn't it odd, though, that rich men, stripped of their wealth, are often considered great fools. 

Financial ruin can make you look foolish, but it can also be an occasion to gain great wisdom. It teaches us James' odd inversion: "The brother in humble circumstances ought to take pride in his high position; the one who is rich should take pride in his low position" (James 1:9,10). Poverty can enrich us, James insists, because in it we learn the secret of true wealth.

Being rich isn't about money, you see; it's a state of mind. There is a wealth that leaves us poverty stricken and a poverty that makes us fabulously rich.

Here's the problem with money: if you love it, it will impoverish you for it will turn your heart from good. "If your eyes are bad," Jesus said, "your whole body will be full of darkness. If then the light within you is darkness, how great is that darkness!"(Matthew 6:22,23). 

If you fix your eyes on Mammon it will darken your heart, cloud your judgment and leave you morally confused and uncertain. It will lead you into bad decisions—choices that defy logic and deny your own values. You will fudge, cheat, embezzle, misappropriate, pad and pilfer. You'll do anything to make a buck. The light in your heart will go out and, as Jesus said, "How great is that darkness!" (Matthew 6:23). 

But worse, the love of money will turn your heart from God. "No one can serve two masters," Jesus said. "Either he will hate the one and love the other, or he will be devoted to the one and despise the other. You cannot serve God and Money" (Matthew 6:24). If you think about money all the time you will, in time, no longer take thought of God. 

Mammon destroys our natural appetite for God. It substitutes one hunger for another. We're taken up with fashion, style, vogue, decor; we transfer our taste from primary to secondary things and God fades from our minds. It's been said that wanting money is a state of mind in which it's easier to forget God than any other.

John Bunyon, in his Pilgrim's Progress writes of the ruin of some travelers: "Now on the far side of that plain was a little hill called Lucre and in that hill (there was) a silver mine, which some of them, because of the rarity of it, had turned aside to see; but going too near the brim of the pit the ground being deceitful under them broke and they were slain. Some also had been maimed there, and could not to their dying day be their own men again."

"Hence one master–passion in the breast, like Aaron's rod, swallows up the rest," said Alexander Pope. If we love money that devotion will inexorably supplant our passion for God and we will be maimed and slain by it. We will be "devoted to the one" and will inevitably "despise the other." We may dabble with God for a time, but in the end we will deny him. 

So—God in his mercy will do one of two things for us: he will give us money and leave us with heart–breaking disappointment in it, or he will take it all away. Either way, God is at work, humbling us, ridding us of our preoccupation with Mammon, loosening our grip on "earth's toys and lesser joys" as Carolyn says, setting our affection on things above. This is the ruin that enriches us; the "low position" that leaves us better off than ever before. 

What God leaves behind is pure gold: we have God and all that he gives. We need nothing more. Israel's poet wrote out of his poverty, "I am always with you; you hold me by my right hand. You guide me with your counsel, and afterwards you will take me into glory…. Whom have I in heaven but you and earth has nothing I desire besides you…. As for me, it is good to be near God" (Psalms 73:23–28). This is the good life. Who could ask for anything more?

One more thing: when we have God we have something of great value to give away to others. We can enrich their lives because our lives have been made rich by God's wisdom and love. "As poor, yet making many rich; as having nothing, and yet possessing all things" (2 Corinthians 6:10). This is the richest man on earth!

YOUR TREASURES AND YOUR HEART


Bishop Julius Soyinka Bishop • Ultimate Power Gospel Assembly, Nigeria

Study Text:  Matthew 6:19-21

Introduction:

- We live in a world in which success is measured by the size of one's wealth or possessions, by one's accomplishments or fame, and in terms of one's IQ, grades or GPA, educational degrees, talent, position or power. 

- Regrettably, Christians are also often tempted to view success in terms of these temporal realities. They forget that whereas fame, education, wealth, beauty, athletic prowess, talent, and power can easily be lost, there are some things that are of enduring value—such things as compassion, love, generosity, kindness, sympathy, humility, etc. 

Identifying Your Treasures:

If you were asked to list the five most important things in your life right now? What would they be? 

-two follow-up questions:

• If you lived in a foreign country where a civil war suddenly erupted, what three possessions would you take with you if you had to leave right away?

• If your home or dormitory were on fire, what items would you rescue before exiting?

- I don't know what you would add to that list. But whatever they are, those items reveal the things you truly value in life. They are the things you hold dear, the things you consider essential to your happiness, survival, and security.

- They are your treasures, and your treasures determine your priorities. They reveal your true ambitions, your attractions, and your affections.

- The decisive question: Are the things you presently treasure what they ought to be? Do your treasures have a lasting value? 

-What would be their value in five or ten years time? Would their value appreciate or depreciate? Would there come a time when you would lose interest in these things you presently hold dear. 

-Do you see yourself ever giving them up or exchanging them for something more valuable—something more enduring?

Seven Insights From the Lessons 

- However, beginning in verse 19 of Matthew 6 and running through the remainder of the chapter, Jesus shifted the focus of His sermon hypocrisy in religious practices to the values we hold in life. He explained that worldly values are as dangerous as religious hypocrisy. For unless the object of our lives—our treasures—are based on eternal realities, we stand the risk of losing everything. Our Lord makes this point in the following three verses of Matthew 6:19-21:

19 Lay not up for yourselves treasures upon earth, where moth and rust doth corrupt, and where thieves break through and steal: 20 But lay up for yourselves treasures in heaven, where neither moth nor rust doth corrupt, and where thieves do not break through nor steal: 21 For where your treasure is, there will your heart be also.

Let's briefly consider seven important things that emerge from the three verses above. 

1. Everyone Has Treasures: 

- The implication is that everyone has some treasure – even the poor have it. The reason Christ did not exclude anyone from the matter of treasures is because treasures consist more in the affections of the heart than in what one can hold in his hands.

- Thus, every human being—regardless of their age, status, gender, ethnicity, educational background, etc.—considers some things as very valuable. So, the question to all of us—including our young people, is: What is your treasure?

2. What Are Treasures? 

- But treasures may be tangible or intangible. They can be held in the hand or simply stored in the mind. 

- A treasure is that upon which you place your affections and attention. It may be your money, possessions, reputation, honor, praise, relationship, degree, or time. 

-Your treasure is that which you value above other things. 

- For example, Achan valued a Babylonian garment and a little silver and gold above the commands of God, so he took what was banned in the conquering of Jericho. Because Achan treasured "things" more than obedience to the Lord he ended up losing all (Joshua 7). 

-On the other hand, the greatest treasure of Ananias and Saphira was what others thought about them. They wanted to be honored before men more than having the approval of God. Their whole attitude and behavior was geared to his honor and reputation; and in the end they lost all of it—including their lives (Acts 5).

- Thus, your treasure is your attitude toward your possessions. It is whatever you most eagerly strive to attain. It is that which you most dread to lose.

- The question is: What is your treasure? What do you deem most valuable? Is it your some prized possession, perhaps your physical appearance, an expensive outfit, or an enviable talent or ability? 

-Or maybe it is a particular circle of friends or desire for attention or longing for recognition for your accomplishments? Is it a boyfriend or girlfriend, or some other kind of relationship? 

-You can recognize your treasures by that which you think is most important to you, that which you believe you cannot do without, that which brings you the greatest pleasure and satisfaction, and that which you think most about. You might give up other things, but you are not willing to part with your treasure. 

3. Jesus Not Opposed to Treasures:

- When Jesus said, "Lay not up for yourselves treasures upon earth...," does it mean that it is wrong for Christians to own or possess things in this world? 

- But Jesus is not condemning possessions or ownership or even enjoying what God has provided you in life. Nor is He forbidding Christians to save and store up resources for future needs.

- The Bible commends this practice by using the example of the ant wisely working to gather food for the future (Proverbs 6:6-11). Neglecting providing for one's family is tantamount to infidelity according to Paul (I Tim 5:8). 

- Treasures are not necessarily evil in themselves. What Jesus was warning against is the improper value that we place on the treasures. It is that which so ties us to the world that we risk losing eternal life. It is our our affection to these things that give treasures wrong values.

4. The Treasures NOT to Treasure: 

- Jesus warned against a preoccupation with anything that can be destroyed. We must not treasure anything that would not last. 

-This is brought to light by Christ's reference to moths, rust, and thieves. You see, in Bible times, wealth was stored and measured by how much literal commodities a person owned: garments, grain, and gold or precious metal—all of which good be lost. 

- You may recall how Elisha's servant, Gehazi, wanted to make a profit when Naaman was cured of leprosy. So he asked Naaman for a talent of silver and two changes of garments, because that was substantial wealth (2 Kings 5:22). 

- The third commodity they put their treasure into was gold or precious metal. But how do you hide it? You might keep it in your house, but a thief could break in and steal it

- The point Jesus is making in this verse is that wealth in the human realm is transitory. No matter what you do, no matter how hard you try, you cannot guarantee that you will not lose your possessions. 

-You can lose your wealth, talents and health overnight. The significant person in your life today (your idol) can dump you tomorrow.

- You must recognize earthly treasures in that light. They are transitory and passing

5. The Treasures to Treasure: 

-The kind of treasure to treasure is determined by its ultimate destiny. Notice that Jesus explains only two destinies for our treasures: "on earth" and "in heaven." 

- The first one, "treasures on earth," is centered on the earthly or that which finds its value only in relationship to the world. It points to the transitory, the things that will pass away. 

- On the other hand,"treasures in heaven" cannot be affected by any act of sin or consequence of the fall. They point to those things that have a lasting value, that transcend the grave and remain forever.

- "The treasure laid up in heaven is imperishable. No fire or flood can destroy it, no thief despoil it, no moth or rust corrupt it; for it is in the keeping of God.

- The apostle Paul gives a clear explanation of the right kind of treasures in I Timothy 6:17-19: "Charge the rich in this world that they be not high-minded, nor trust in uncertain riches, but in the living God, He offering to us richly all things to enjoy, that they do good, that they be rich in good works, ready to share, to be generous, laying up in store [apo-thesaurizo] for themselves a good foundation against the time to come, that they may lay hold on eternal life." 

- The way to "lay up treasures in heaven" is to develop Christlike character (since all we can take with us to heaven is ourselves). "Character is the great harvest of life. 

-Character development is enhanced by actively spending time in personal devotions—prayer and Bible study—so that we can increase in faith, hope and charity, all of which Paul said "abide" (1 Corinthians 13:13). 

- Finally, "we lay up treasures in heaven" when we actively work towards the salvation of others, so that they too may inherit eternal life.

- The interesting thing is that the way to avoid treasuring up treasures upon the earth is to treasure up treasures in heaven by developing a Christlike character, maintaining a personal relationship with Christ through personal devotions, and witnessing.

6. The Heart Follows the Treasure:

- The most powerful reason that Jesus declares for storing up treasures in heaven is found in verse 21 of Matthew 6. He indicates that "where your treasure is, there will your heart be also." 

-The word "heart" is used for the whole inner man, the core of our total being, the wellspring of all we do.

- So when Jesus speaks of "where your treasure is" He means that the whole of our being is wrapped up in our treasures. Our hearts will be upon what we treasure most.

- In other words, where we invest our treasure will determine where we set our affections. It is not so much that our treasure follows our hearts as it is that our hearts follow our treasure. 

-Where the treasure is there the value and esteem are, there the love and affection are (Col 3:2), that way the desires and pursuits go, thitherward the aims and intents are levelled, and all is done with that in view.

- In other words, what we invest in we are committed to. The things we treasure actually govern our lives. 

-What we value occupies our minds and grips our emotions. It is the theme and content of our conversation. 

-It consumes our time with planning, day-dreaming, and energy to achieve. "For where your treasure is, there your heart will be also.

7. Choose Your Treasures Wisely: 

- When Jesus twice urges us to "lay up for yourselves treasures," the reflexive pronoun ("yourselves") implies a choice at the personal level. No one can make that choice for another; each one of us has to make it ourselves and be held accountable for it.

- There is no room for such excuses as: "I had no choice," "I was forced against my will," "I was born that way," "the devil made me do it," "my environment or genes made me do it," and so on. 

-For the Bible clearly teaches that we were all created as free moral agents and endowed with the power of choice (cf. Josh 24:15; John 14:15; Rev 22:17). 

The decisive question is: What treasures are we choosing? Are we making efforts towards developing Christlike character? 

- "The things we hold dear—our treasures—determine the amount of time, energy, and resources we devote to them. If we value our looks, education, grades, jobs, position, or relationships, those things become number one in our life. 

-But if we value eternal life, then we shall spend a considerable amount of time with our Lord, lovingly serving Him as we develop His matchless character."

Conclusion

- Character development is the way we treasure treasures in heaven. ThisMessage was an invitation to develop characters fit for heaven.

- It calls upon us to reconsider our priorities in life. It urges to give up that which is valuable to us (our earthly treasures) for what is most valuable in life "the treasures of heaven." 

-Jesus said it best: "But seek ye first the kingdom of God and His righteousness, and all these things shall be added unto you" (Matthew 6:33). 

Lambert Dolphin 10/19/19. 11/1/20