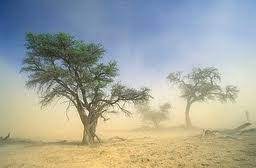 Waterless Places

Jesus: His Calling and Destiny
After His baptism by John, Jesus moved to the Galilee in Northern Israel. The influence of Jesus over the entire world would increase inexorably with many ups and downs,
But there will be no gloom for those who were in anguish.
In the former time he brought into contempt the land of Zebulun and the land of Naphtali,
but in the latter time he will make glorious the way of the sea, the land beyond the Jordan, Galilee of the nations. 

2 The people who walked in darkness
   have seen a great light;
those who lived in a land of deep darkness—
   on them light has shined. 
3 You have multiplied the nation,
   you have increased its joy;
they rejoice before you
   as with joy at the harvest,
   as people exult when dividing plunder. 
4 For the yoke of their burden,
   and the bar across their shoulders,
   the rod of their oppressor,
   you have broken as on the day of Midian. 
5 For all the boots of the tramping warriors
   and all the garments rolled in blood
   shall be burned as fuel for the fire. 

6 For a child has been born for us,
   a son given to us;
authority rests upon his shoulders;
   and he is named
Wonderful Counselor, Mighty God,
   Everlasting Father, Prince of Peace. 
7 His authority shall grow continually,
   and there shall be endless peace
for the throne of David and his kingdom.
   He will establish and uphold it
with justice and with righteousness
   from this time onwards and for evermore.
The zeal of the Lord of hosts will do this. (Isaiah 9:2-7)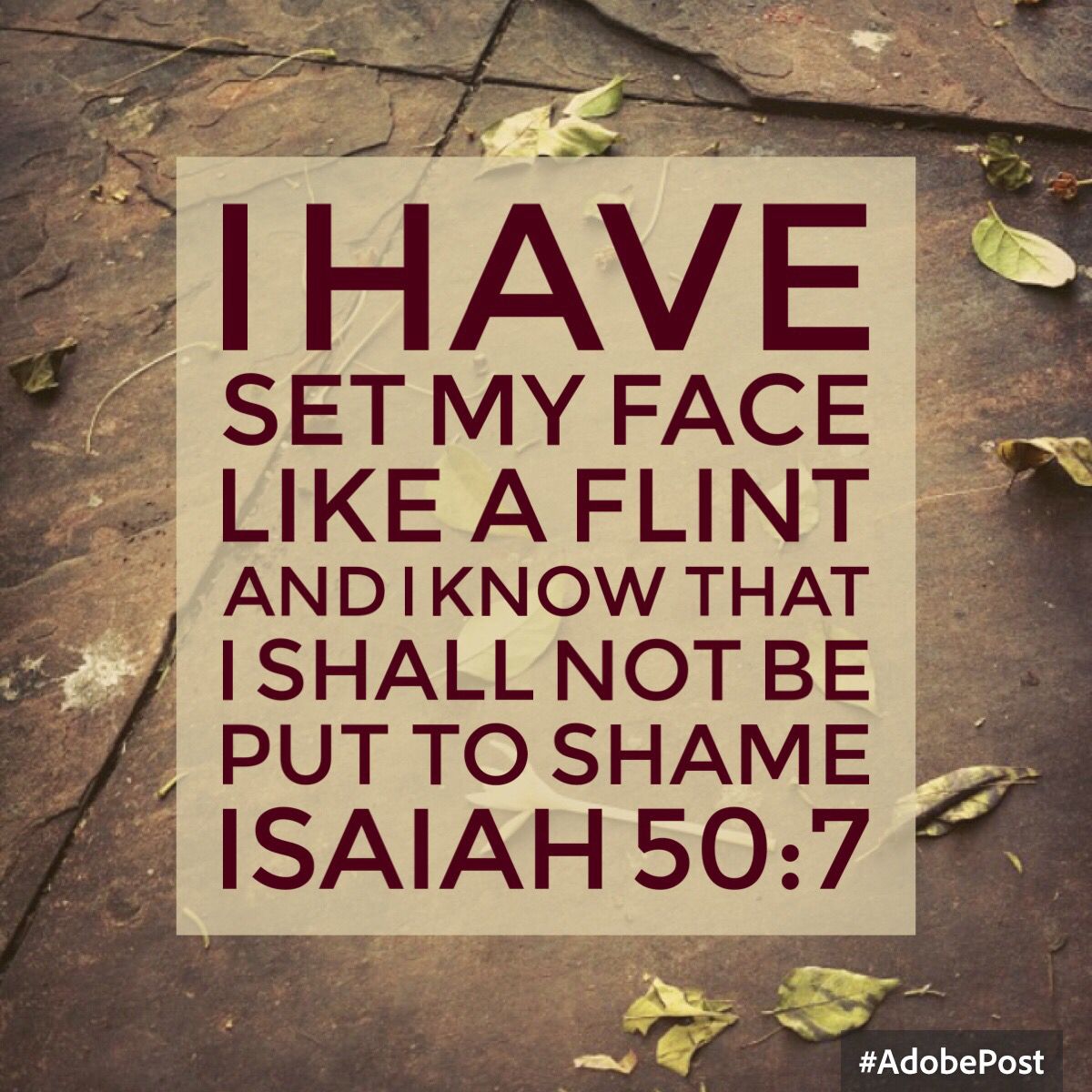 At first many thousands of ordinary people in Galilee came to listen to Jesus speak. They were attracted by His healings and charisma. But over time what he said and did became old-hat. At the same time fierce opposition developed in the religious establishment centered in Jerusalem a hundred of miles to the South. Jesus knew full well what His destiny would be. Matthew Chapter 12 records the beginning of the transition from Galilee to Jerusalem. The mounting hostility of the Pharisees is evident from verse 22, with an amazing teaching on apostasy hidden there -- which is the focus of this article.
Americans are mostly Biblically illiterate these days. If we attend church it is often so we can be affirmed by a snippet from the Bible preached on for half-an-hour by a seminary trained puppet who need not actually know Jesus. We sit next to total strangers, dutifully put 10% in the offering plate to keep the cabal going.
As He headed South on foot, Jesus dispatched the 12, two by two, to let the people along the route know He was. He also recruited an additional 70 for a special mission--heralding the coming Kingdom rule of Jesus over the entire earth. See The Seventy. (The mission of these men is recorded in Luke 10.) Here we can now see 2000 years ahead to the calling of 70 times 70 times 1000 (144k) evangelists soon to be dispatched by Jesus from cosmic Headquarters.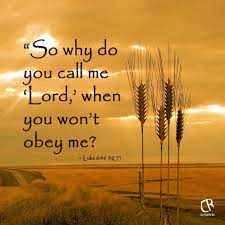 Down through the centuries a few individuals would trust in Jesus and learn to walk with Him daily. Beginning with Matthew 12:16, Jesus instructed them especially--the survivors--while also addressing the Pharisees in increasingly harsh words. (This is because religious error lies at heart of all that is wrong in the world.)
Jesus is Commander in Chief of the Armies of heaven in case you've never been told. Listen to great bold Hymn: The Half has Never Yet Been Told.
After this I heard what seemed to be the loud voice of a great multitude in heaven, saying, 'Hallelujah! Salvation and glory and power to our God,    for his judgments are true and just; he has judged the great whore    who corrupted the earth with her fornication, and he has avenged on her the blood of his servants.'  Once more they said, 'Hallelujah! The smoke goes up from her for ever and ever.'  And the twenty-four elders and the four living creatures fell down and worshiped God who is seated on the throne, saying, 'Amen. Hallelujah!'  And from the throne came a voice saying, 'Praise our God,  all you his servants, and all who fear him, small and great.'  Then I heard what seemed to be the voice of a great multitude, like the sound of many waters and like the sound of mighty thunder-peals, crying out, 'Hallelujah! For the Lord our God    the Almighty reigns.  Let us rejoice and exult and give him the glory, for the marriage of the Lamb has come, and his bride has made herself ready;  to her it has been granted to be clothed with fine linen, bright and pure'— for the fine linen is the righteous deeds of the saints. And the angel said to me, 'Write this: Blessed are those who are invited to the marriage supper of the Lamb.' And he said to me, 'These are true words of God.' Then I fell down at his feet to worship him, but he said to me, 'You must not do that! I am a fellow-servant with you and your comrades who hold the testimony of Jesus. Worship God! For the testimony of Jesus is the spirit of prophecy.'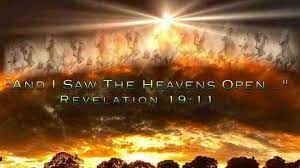 Then I saw heaven opened, and there was a white horse! Its rider is called Faithful and True, and in righteousness he judges and makes war. His eyes are like a flame of fire, and on his head are many diadems; and he has a name inscribed that no one knows but himself. He is clothed in a robe dipped in blood, and his name is called The Word of God.  And the armies of heaven, wearing fine linen, white and pure, were following him on white horses. From his mouth comes a sharp sword with which to strike down the nations, and he will rule them with a rod of iron; he will tread the wine press of the fury of the wrath of God the Almighty.  On his robe and on his thigh he has a name inscribed, 'King of kings and Lord of lords'.

Then I saw an angel standing in the sun, and with a loud voice he called to all the birds that fly in mid-heaven, 'Come, gather for the great supper of God, to eat the flesh of kings, the flesh of captains, the flesh of the mighty, the flesh of horses and their riders—flesh of all, both free and slave, both small and great.' Then I saw the beast and the kings of the earth with their armies gathered to make war against the rider on the horse and against his army. And the beast was captured, and with it the false prophet who had performed in its presence the signs by which he deceived those who had received the mark of the beast and those who worshiped its image. These two were thrown alive into the lake of fire that burns with sulphur.  And the rest were killed by the sword of the rider on the horse, the sword that came from his mouth; and all the birds were gorged with their flesh." (Revelation 19)
Lastly, Jesus addresses His followers (then and now) "While he was still speaking to the crowds, his mother and his brothers were standing outside, wanting to speak to him. Someone told him, 'Look, your mother and your brothers are standing outside, wanting to speak to you.'  But to the one who had told him this, Jesus replied, 'Who is my mother, and who are my brothers?' And pointing to his disciples, he said, 'Here are my mother and my brothers!  For whoever does the will of my Father in heaven is my brother and sister and mother.' "(Matthew 12:47-50)

Matthew 12
Plucking Grain on the Sabbath
1 At that time Jesus went through the cornfields on the sabbath; his disciples were hungry, and they began to pluck heads of grain and to eat. 2 When the Pharisees saw it, they said to him, 'Look, your disciples are doing what is not lawful to do on the sabbath.' 3 He said to them, 'Have you not read what David did when he and his companions were hungry? 4 He entered the house of God and ate the bread of the Presence, which it was not lawful for him or his companions to eat, but only for the priests. 5 Or have you not read in the law that on the sabbath the priests in the temple break the sabbath and yet are guiltless? 6 I tell you, something greater than the temple is here. 7 But if you had known what this means, "I desire mercy and not sacrifice", you would not have condemned the guiltless. 8 For the Son of Man is lord of the sabbath.'
The Man with a Withered Hand
9 He left that place and entered their synagogue; 10 a man was there with a withered hand, and they asked him, 'Is it lawful to cure on the sabbath?' so that they might accuse him. 11 He said to them, 'Suppose one of you has only one sheep and it falls into a pit on the sabbath; will you not lay hold of it and lift it out? 12 How much more valuable is a human being than a sheep! So it is lawful to do good on the sabbath.'13 Then he said to the man, 'Stretch out your hand.' He stretched it out, and it was restored, as sound as the other. 
14 But the Pharisees went out and conspired against him, how to destroy him.
15 When Jesus became aware of this, he departed.
Many crowds followed him, and he cured all of them, 16 and he ordered them not to make him known. 17 This was to fulfil what had been spoken through the prophet Isaiah: 

18 'Here is my servant, whom I have chosen,
   my beloved, with whom my soul is well pleased.
I will put my Spirit upon him,
   and he will proclaim justice to the Gentiles. 
19 He will not wrangle or cry aloud,
   nor will anyone hear his voice in the streets. 
20 He will not break a bruised reed
   or quench a smoldering wick
until he brings justice to victory. 
21   And in his name the Gentiles will hope.'
Jesus and Beelzebul
22 Then they brought to him a demoniac who was blind and mute; and he cured him, so that the one who had been mute could speak and see. 23 All the crowds were amazed and said, 'Can this be the Son of David?'24 But when the Pharisees heard it, they said, 'It is only by Beelzebul, the ruler of the demons, that this fellow casts out the demons.' 25 He knew what they were thinking and said to them, 'Every kingdom divided against itself is laid waste, and no city or house divided against itself will stand. 26 If Satan casts out Satan, he is divided against himself; how then will his kingdom stand? 27 If I cast out demons by Beelzebul, by whom do your own exorcists cast them out? Therefore they will be your judges. 28 But if it is by the Spirit of God that I cast out demons, then the kingdom of God has come to you. 29 Or how can one enter a strong man's house and plunder his property, without first tying up the strong man? Then indeed the house can be plundered. 30 Whoever is not with me is against me, and whoever does not gather with me scatters. 31 Therefore I tell you, people will be forgiven for every sin and blasphemy, but blasphemy against the Spirit will not be forgiven. 32 Whoever speaks a word against the Son of Man will be forgiven, but whoever speaks against the Holy Spirit will not be forgiven, either in this age or in the age to come.
A Tree and Its Fruit
33 'Either make the tree good, and its fruit good; or make the tree bad, and its fruit bad; for the tree is known by its fruit. 34 You brood of vipers! How can you speak good things, when you are evil? For out of the abundance of the heart the mouth speaks. 35 The good person brings good things out of a good treasure, and the evil person brings evil things out of an evil treasure. 36 I tell you, on the day of judgement you will have to give an account for every careless word you utter; 37 for by your words you will be justified, and by your words you will be condemned.'
The Sign of Jonah
38 Then some of the scribes and Pharisees said to him, 'Teacher, we wish to see a sign from you.' 39 But he answered them, 'An evil and adulterous generation asks for a sign, but no sign will be given to it except the sign of the prophet Jonah. 40 For just as Jonah was for three days and three nights in the belly of the sea monster, so for three days and three nights the Son of Man will be in the heart of the earth. 41 The people of Nineveh will rise up at the judgement with this generation and condemn it, because they repented at the proclamation of Jonah, and see, something greater than Jonah is here! 42 The queen of the South will rise up at the judgement with this generation and condemn it, because she came from the ends of the earth to listen to the wisdom of Solomon, and see, something greater than Solomon is here!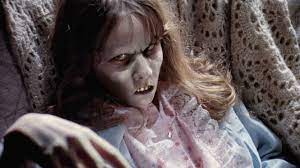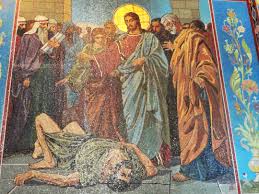 The Return of the Unclean Spirit
43 'When the unclean spirit has gone out of a person, it wanders through waterless regions looking for a resting-place, but it finds none. 44 Then it says, "I will return to my house from which I came." When it comes, it finds it empty, swept, and put in order. 45 Then it goes and brings along seven other spirits more evil than itself, and they enter and live there; and the last state of that person is worse than the first. So will it be also with this evil generation.'
The True Kindred of Jesus
46 While he was still speaking to the crowds, his mother and his brothers were standing outside, wanting to speak to him. 
47 Someone told him, 'Look, your mother and your brothers are standing outside, wanting to speak to you.' 48 But to the one who had told him this, Jesus replied, 'Who is my mother, and who are my brothers?' 
49 And pointing to his disciples, he said, 'Here are my mother and my brothers! 50 For whoever does the will of my Father in heaven is my brother and sister and mother.'
The point of these verses that describe demon possession goes back to Jesus' warning about the peril of being neutral toward Him Matthew 12:30). A demon cast out of a person initially goes through arid places seeking rest. This statement affirms the Jewish belief that demons prefer dry places (Tobit 8:3; cf. Revelation 18:2). [Note: Cf. Tasker, p. 133. See Edersheim, 2:748-63, and 2:770-76, for the Jewish views of angels and demons.] Eventually they seek to inhabit human bodies through which they can do more damage.
Jesus implied the possibility of demonic repossession (Matthew 12:44). The demon's house is a human body in Jesus' story. The demon returns to the person it had left discovering that he or she is still receptive to the demon's presence because no superior power occupies that person. Consequently the demon invites seven other demons, a full complement, and they take up residence in the person.
Jesus compared the unbelieving Jews of His day to the demon-possessed person. John the Baptist and Jesus had purified the lives of many in Galilee by calling them to repentance, but not all of them had embraced Jesus in faith. Jesus had cast demons out of many people, but they did not all believe that He was the Messiah. This neutral condition left them vulnerable to an even worse invasion from Satan to say nothing about judgment from God. These neutral individuals represented the nation as a whole.
Many Christians believe that Jesus' teaching here gives evidence that demons cannot possess a true believer. That may be so, but demons can afflict believers greatly. Believers are no more immune against attack from Satan and his demons than we are from attacks from the world and the flesh. The line between demon possession and demon affliction is a thin one that is very hard to identify. (Thomas Constable)

Jesus The Way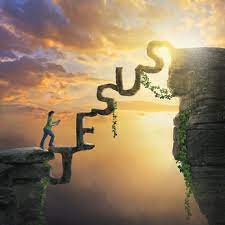 At that time Jesus said, 'I thank you, Father, Lord of heaven and earth,
because you have hidden these things from the wise and the intelligent and have revealed them to infants; 
yes, Father, for such was your gracious will. 
All things have been handed over to me by my Father;
and no one knows the Son except the Father,
and no one knows the Father except the Son and anyone to whom the Son chooses to reveal him.

 'Come to me, all you that are weary and are carrying heavy burdens, and I will give you rest. 
Take my yoke upon you, and learn from me;
for I am gentle and humble in heart, and you will find rest for your souls.
For my yoke is easy, and my burden is light.' (Matthew 11:25-30)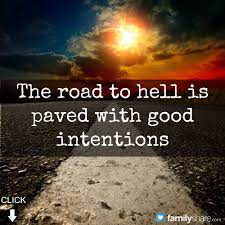 Apostasy
"The road to hell is paved with good intentions."

This expression is often attributed to the Cistercian abbot Saint Bernard of Clairvaux (1090 – 1153).

Apostasy happens when people once knew God intimately, trusted Him and obeyed Him daily— but they drifted away! 

This is the first great warning in the letter to the Hebrews. 

Therefore we must give the more earnest heed to the things we have heard, lest we drift away. (Hebrews 2:1)

pararreō
pararruōmen
παραῤῥυῶμεν
1. A boat carelessly not tied up at the dock drifts off to sea.
2. The wedding ring of a newly wed girl washing dishes slips off and disappears down the drain.

What is Apostasy?
Imagine a home Bible class, perhaps a dozen men and women. They care about each other, invite their non-Christian friends, stay transparent--loving one another as best they can. They usually pray in concert together. They are all, pretty much, on the same page theologically (doctrinally). Not finding a like-minded group of Christians in their zone, they start a church, meeting perhaps in a rented empty office. One in their group knows the Bible, so he is the new pastor, by default. They'll hire a professionally trained pastor when they can afford it. Soon the church has embraced the Laodicean heresy without knowing it: a paid clergy and a separate laity. Soon all sorts of seeking, searching, hurting people join their ranks--and these people tithe. It is less and less important that each member knows Jesus and is actively trusting Him. From a starter group of dozen people, they soon may number hundreds. They soon decide on a creed--a statement of what they believe--to distinguish themselves from the cults in the area. Lining up with the IRS is important, so gifts to their fellowship are tax-deductible. Soon they the need help of a lawyer, a facility manager, some secretaries. Lots of wonderful church starts end up cabals, or "city hall" churches. It's the slippery-slope of apostasy, happening in every generation, but cascading at the end of the age. Like now.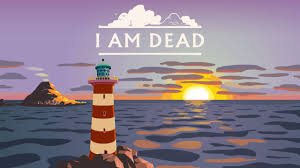 The creedal statement will probably remain orthodox, kosher, but the growing church becomes "seeker friendly." Hypocrisy sets in. So does apostasy. The creed stays in place, but fewer members know and walk with Jesus. The original warm, caring Fellowship is now just another church on church row with very little light and not much love overflowing into the community. The visible church is now mostly compromised as far as God is concerned. Fewer real seekers bother to show up. The members know that are not really loved and but everyone is welcome as long as they have no "problems" and/or "issues." The younger generation loses interest and drops out! No one knows quite why. The outward form is preserved but there is dry rot inside.
Something else happens! The culture changes and compromised churches can't keep up with the times. They become entrenched, liturgical, set in their ways--and God shuts off the power.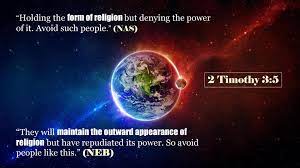 There is nothing new about this series of events. Through two thousand years of church history, the professing church has reinvented her image and protocols seven times now. See The Seven Churches. The last church of the series, Laodicea, boasts the largest number of converts but is the flakiest.
Scenario: An evangelist, like Billy Graham, from a certain cultural understanding of the Gospel message devotes himself to spreading the good news near and far. Many thousands "accept Jesus Christ as Lord and Savior" and, joining local churches, they bring new live to a dying congregation. Yet mainline churches have a history of fading away for a number of reasons! Counter-cultural movements such as the Jesus Movement rise up, and a new generation of gung ho followers of Jesus springs up. They, too, fall away, or are assimilated back into the surrounding pagan culture. See The Church Papers.
Apostasy, then, is a continual process down through church history!
Individuals apostatize as well as entire churches! The age of the church is now ending with the fake church coagulating into the Great Harlot and true church being about to be caught up to heaven. God's program is right on schedule and on track, ready or not. Today most born-again Christians are not found in an organized church--for a variety of reasons. But this means the Body of Christ on earth today is highly fragmented. Yet the the church is the "secret government" of God on the planet--as the church goes, so goes the nation. See The Church Papers.
Jesus is intensely personable and all who will may come. It is not enough just to know Jesus individually since the church Jesus is building is family, the very Body of Christ. Jesus is the Head and His agenda calls for a total rebuilding of a wasted planet. For the very brave of heart see my Church Papers. Your email is welcome.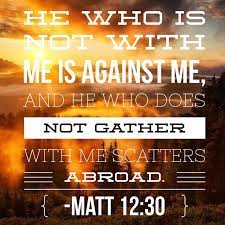 Now, brethren, concerning the coming of our Lord Jesus Christ and our gathering together to Him, we ask you, not to be soon shaken in mind or troubled, either by spirit or by word or by letter, as if from us, as though the day of Christ had come.
Let no one deceive you by any means;
for that Day will not come unless the falling away comes first,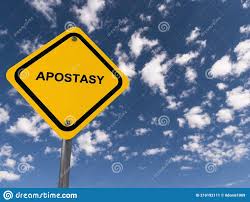 ...and the man of sin is revealed, the son of perdition, who opposes and exalts himself above all that is called God or that is worshiped, so that he sits as God in the temple of God, showing himself that he is God.
Do you not remember that when I was still with you I told you these things?  And now you know what is restraining, that he may be revealed in his own time.  For the mystery of lawlessness is already at work; only He who now restrains will do so until He is taken out of the way. And then the lawless one will be revealed, whom the Lord will consume with the breath of His mouth and destroy with the brightness of His coming.
The coming of the lawless one is according to the working of Satan, with all power, signs, and lying wonders,  and with all unrighteous deception among those who perish, because they did not receive the love of the truth, that they might be saved.  
And for this reason God will send them strong delusion, that they should believe the lie,  that they all may be condemned who did not believe the truth but had pleasure in unrighteousness. But we are bound to give thanks to God always for you, brethren beloved by the Lord, because God from the beginning chose you for salvation through sanctification by the Spirit and belief in the truth,  to which He called you by our gospel, for the obtaining of the glory of our Lord Jesus Christ.  
Therefore, brethren, stand fast and hold the traditions which you were taught, whether by word or our epistle.  Now may our Lord Jesus Christ Himself, and our God and Father, who has loved us and given us everlasting consolation and good hope by grace,  comfort your hearts and establish you in every good word and work. (2 Thessalonians 2)

Reference Reading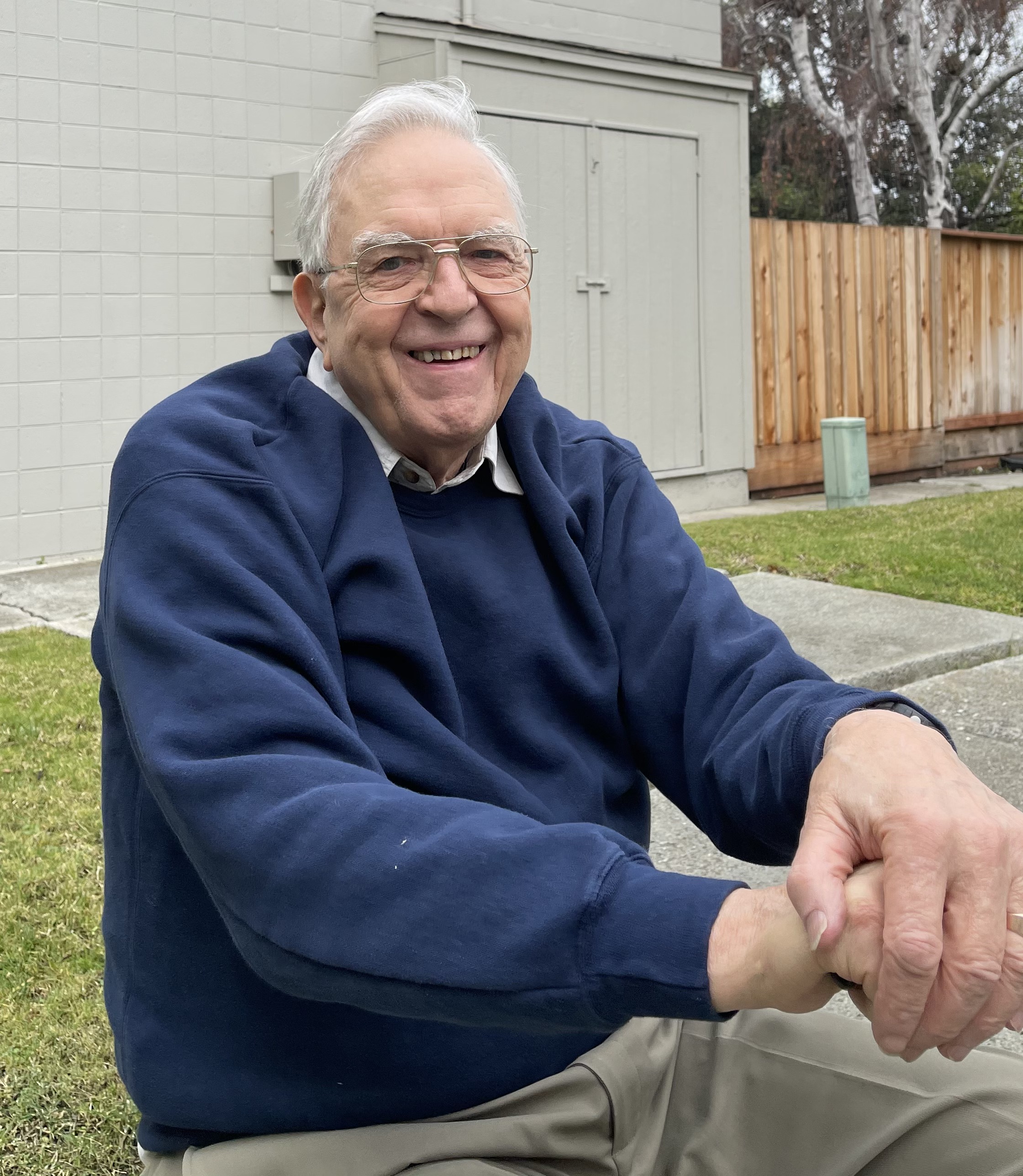 Lambert Dolphin 

Email is welcome 
Lambert Dolphin's Place
Recent and Recovered Articles
Newsletters Old and New

March 2, 2022